The Department of Computer Science was founded in 1982 and is housed in the Regent Court building on Portobello Street, completed in 1993. The Department is a member of the Faculty of Engineering.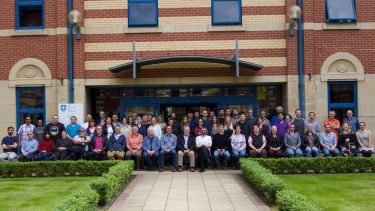 The Department is housed in the Regent Court building on Portobello Street, opposite to the former St. George's church which has been converted into a modern lecture theatre. Regent Court is a pleasant purpose-built building, completed in 1993, and built around a grass courtyard. It contains the offices of our staff, most of our research laboratories, seminar/tutorial rooms, and flexible teaching/study space. Students also have access to dedicated state-of-the-art computer labs in the Diamond.
Lecture theatres are situated nearby on the campus. Regent Court is a 10 minute walk from the city centre, and a similar distance from the Students Union Building. Much of the surrounding area has been developed by the University, and is made up of a successful blend of redeveloped 19th Century industrial buildings and modern constructions. It is difficult to see where the University ends and the city begins, and the area is particularly well furnished with eating places, pubs, bars and bookshops.
Teaching, Research and Student Satisfaction
The Department has an international reputation for the quality of its research and teaching. In the 2014 Research Excellence Framework (REF), 92% of our research work was rated world leading (4*) or internationally excellent (3*) in terms of its originality, significance and rigour. We have a REF grade point average (GPA) of 3.39, ranking us 5th out of 89 computer science departments in the UK.
In the 2019 National Student Survey (NSS) 90% of our students were satisfied overall: better than any other Russell Group computer science department.  
Working at the University of Sheffield
We are the only university to feature in the Sunday Times 100 Best Not-for-Profit organisations to work for 2018. In our staff survey (2016) 94% of staff said they were proud to work for the University and 89% of our staff would recommend the University as an excellent place to work.
The University builds teams of people from different heritages and lifestyles from across the world, whose talent and contributions complement each other to greatest effect. We believe diversity in all its forms delivers greater impact through research, teaching and student experience. The University of Sheffield is proud to be a Two Ticks employer: www.sheffield.ac.uk/hr/equality/support/twoticks.
The Department of Computer Science is one of very few in the UK that holds a Silver Athena SWAN award, in recognition of our commitment to equality and diversity. The Department has a very active equality and diversity agenda, linking to national initiatives such as BCSWomen and Code First: Girls.
Sheffield is a vibrant, friendly, safe city surrounded by some of the most breathtaking countryside in the UK. It has been called the UK's greenest city; there are 50 public parks and 170 woodlands within the city boundary. England's fourth-largest city, Sheffield has the wealth of facilities you'd expect to find in a major city, yet more than a third of the city lies inside the Peak District National Park.
The city of Sheffield contains an abundance of entertainment and cultural activities. With a thriving cultural industries quarter and a range of city-wide events throughout the year, there is something on offer to suit everyone's taste and interests.

Located in the centre of the UK, Sheffield is at the heart of an excellent transport network. There are six international airports within 65 miles and a bustling railway station offers access to every corner of the UK, and beyond.
A world top-100 university
We're a world top-100 university renowned for the excellence, impact and distinctiveness of our research-led learning and teaching.