Genesys: our student-led software development organisation
Our masters students operate Genesys as a professional software development organisation, the first one of its kind in the UK, where they form customer-facing teams to build custom web applications.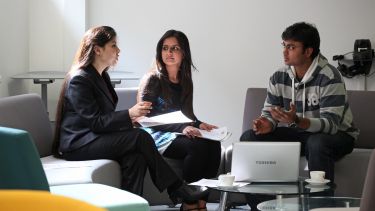 The students are supported by staff from epiGenesys, a subsidiary company of the University that specialises in agile software development for the education and health research sectors.
Genesys gives you the opportunity to gain industrial experience with considerable personal responsibility. It offers the chance to:
Work as part of a team in a professional software engineering environment
Engage with real customers to discover business opportunities
Apply agile software engineering practices and make use of industrial tools
Boost your employability by gaining experience in areas such as process improvement, project management, software testing, and user experience design
Each year staff from epiGenesys identify challenging themes for Genesys to focus on. Recent options include:
Personal fitness in an ageing society
Experiencing the arts in the modern-day
Self-directed learning
Securing personal data
Genesys shares dedicated office space with epiGenesys. This provides our students with:
Professional facilities for collaborating with other members of the organisation
Easy access to advice and guidance from software engineering practitioners
An opportunity to observe and interact with staff from a real software company
A world-class university – a unique student experience
Sheffield is a research university with a global reputation for excellence. We're a member of the Russell Group: one of the 24 leading UK universities for research and teaching.