Staff profile - Neil Walkinshaw
Dr Neil Walkinshaw in a Senior Lecturer in the Department's Testing research group and also acts as the Alumni Relations Lead.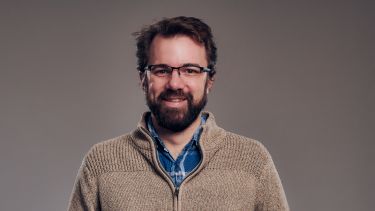 Off
Tell us a bit about yourself and your background:

I started my Computer Science journey in this department as an undergraduate at the tender age of 17 in 1999. After that I completed my Ph.D. at the University of Strathclyde in Scotland, before coming back to Sheffield, where I spent 5 years as a postdoctoral researcher. I moved on to a lectureship at the University of Leicester in 2010, before returning back to Sheffield in 2018.

Why did you choose to work at Sheffield:
As you can perhaps see from my background, I've never willingly strayed far from Sheffield.

Neil Walkinshaw, Senior Lecturer in Testing
Even in the eight years I commuted to Leicester, I lived in Sheffield. Throughout this time, I retained a visiting position in the department, which enabled me to collaborate with colleagues here. When the opportunity arose to work in this group, and so close to home, it was too good to miss.

What's it like living in Sheffield, what do you like to do outside of work?
I have three kids, so most of my free time is spent taking them to their various sports activities and so on. However, when I get the chance, I like to get out into the Peak District for walks with the kids (despite their protestations). I also enjoy trying to cook (again despite their protestations).
A global reputation
Sheffield is a research university with a global reputation for excellence. We're a member of the Russell Group: one of the 24 leading UK universities for research and teaching.