Information for staff and students
If you're a member of staff or a student in the Department of Computer Science, you can find out more information using our 2020-21 handbooks.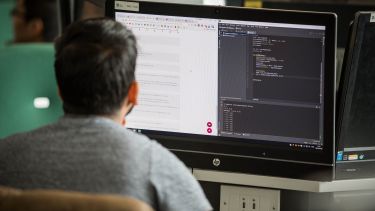 The following handbooks are for staff and students in the Department of Computer Science only: 
---
Welcome to Campus - Your new Engineering Reception
Your Engineering Reception is where you can go to find out more information about your course and other aspects of university life.
While access is restricted to our academic departments, and particular groups of staff continue to work from home, you will not be able to visit department receptions and student support offices in person. However, our support staff are still available to answer any specific queries you may have. You should contact the reception team on dcs@sheffield.ac.uk 
The majority of student enquiries should be directed to the virtual reception teams - they are the experts on your programme and can help you in the most efficient way. They can offer in-depth virtual consultations on many issues related to your study.
If you are on campus, and you have an immediate need for support, then that is when you should visit our physical Engineering Reception.
We will be operating a paperless service, and so the physical reception will be unable to give or receive any paperwork, including coursework, change of status or extenuating circumstances forms. These must be scanned or photographed by the student and submitted electronically to the relevant department's contact email address.
If you require wellbeing support, the Faculty of Engineering has its own Wellbeing Advisor, Mick Berry. You can get in touch with Mick on SWSengineering@sheffield.ac.uk or book an appointment to see him.
If you are on campus, and would like to speak to someone in person, you can visit the Engineering Reception in the Diamond.
Engineering Reception
Level 3
The Diamond
Opening hours:
w/c 8th March (week 5) 9am - 2pm
w/c 15th and 22nd March (weeks 6 and 7) 9am- 3pm
Please note that the staff on the physical reception points are very experienced and can support many enquiries, but in some cases, they will still need to refer your enquiry to your department's virtual team. For example, questions relating to module availability, programme regulations or assessment progression should be directed to the relevant department's contact email address. You can expect to receive a response within 1 working day.
Any non-urgent enquiries can be sent to the Department Virtual Receptions.
A world top-100 university
We're a world top-100 university renowned for the excellence, impact and distinctiveness of our research-led learning and teaching.