The importance of typing (and how to learn!). What I wish I knew before starting university, part 3.
Damian has just graduated and is about to start working as a technical product manager at Net4. We asked him what he wished he had known before starting university and he has written four blog posts for us. In this third one he talks about how to learn to type and why its important.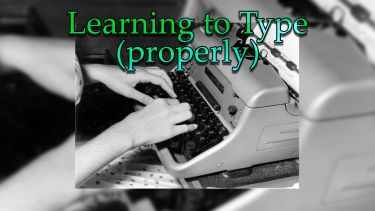 Typing is an incredibly important skill that will help you a huge amount in computer science.  Here's a couple of tips and links on how to type properly. Firstly, learning how to type properly! I've looked over a lot of different typing websites and rated them for you, as sometimes there's far too many websites at once!
For Beginners
Ratatype is a great website for learning how to improve your typing speed. It uses a slow build-up approach to get you slowly used to typing quickly. I'd definitely recommend going through the typing tutor tutorials if your typing speed is slow! 
For People already comfortable 
If you're comfortable with typing already, ratatype may seem quite slow for you. If you mostly want to brush up, and try and improve your typing skills, try typing test or typing study 
Unlike ratatype, these let you pick specific levels and lessons, and specifically try and improve speed instead of learning. 
I've not experienced any adverts or hidden pricings in any of the above websites in particular, as for some typing websites there's a large amount of hidden fees!
Improving Typing
If you want to improve your typing skills, it takes practice! I'd recommend writing lots of things (whether they're blogs, stories, programs or anything else!). Muscle memory is a huge part of learning to type quickly, so building up that muscle memory by typing a lot of different things can help you a ton. Typing properly can save you a lot of time programming, writing essays and performing a lot of different work at university, so I'd absolutely recommend it as a skill!
Hi, I'm Damian, and I wanted to share some things that I wish I knew about starting University with you. There's a lot of little things that you end up picking up throughout the course, and from knowing what you might need buying a laptop to learning basic terminal skills, lots of things that I think it's really good to know before you get to uni. 
I've just finished my integrated master's at the uni with a first, and I've gotten a job at Net4, an IoT and Visual Analytics company working as a technical product manager! 
Over my time at the University I've competed in global programming competitions, been a finalist in the University Business Challenge, travelled to places like Paris for sports competitions and a host of other stuff, the opportunities you'll be able to experience at the Uni are huge and exciting, and I hope some of my content helps you through some of the skills that are incredibly helpful for your computer science course. 
If you want to ask any further questions about Computer Science or any of the content I've sent, feel free to contact me, my website is dambem.github.io, and my linkedin is linkedin.com/in/bemben, feel free to send over questions!
A world top-100 university
We're a world top-100 university renowned for the excellence, impact and distinctiveness of our research-led learning and teaching.