Newly-formed Turing Interest Group strengthens ties with The Alan Turing Institute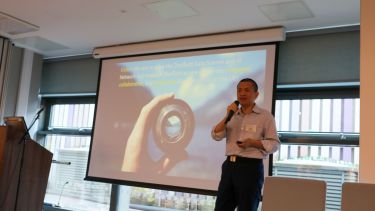 What are Turing Interest Groups?
Turing Interest Groups aim to gather researchers from a diverse range of disciplines around shared areas of interest in data science and artificial intelligence (AI) to share knowledge and spark collaboration.
Over the summer, The Alan Turing Institute - the UK's national institute for data science and AI -  issued a call for new Interest Groups to promote research collaboration and help communicate emerging scientific concepts to a wider audience.  
The Turing Interest Group led by Dr Haiping Lu, on 'Meta-learning for multimodal data', was one of nine announced by The Alan Turing Institute on 14th November.
About the 'Meta-learning for multimodal data' Turing Interest Group
This group aims to bring together machine learning researchers, data scientists, and domain experts from diverse backgrounds, career stages, and disciplines to develop algorithms and tools that transfer knowledge across tasks and domains to improve the performance of learning algorithms on data of multiple modalities in real-world applications.
For example, in healthcare, there are data of multiple modalities including medical images, health-monitoring data, electronic health records, and multi-omics data. In practice, clinicians often make decisions using data from more than one modality and leveraging experience from related tasks/domains. 
To advance AI for such real-world problems, the group aims to collaboratively develop meta-learning algorithms and tools that can leverage experience and knowledge on individual modalities, domains, and tasks to tackle real-world challenges.
Dr Haiping Lu, Senior Lecturer in Machine Leaning at the University of Sheffield's Department of Computer Science, said: "This success is a team effort with our co-organisers from University of Oxford and University of Cambridge. It offers a great opportunity for us to engage the broader community via the Turing platform and network to advance machine learning research towards generating real-world impacts."
Turing Network Development Award
It comes after the University of Sheffield was announced as one of the first recipients of a new award launched by The Alan Turing Institute earlier this year.
The University was among 24 UK universities to receive the first-ever Turing Network Development Award which supports the University's data science and AI research to build on its world-leading expertise to contribute to a national programme that sets the UK apart as a leader in the field.
The exploration of data science and AI has the potential to transform society by tackling some of the global challenges facing healthcare, social justice and manufacturing and industry today, using the wealth of digital data produced by these sectors to improve outcomes and enhance lives.
Flagship institutes
The University's four flagship institutes bring together our key strengths to tackle global issues, turning interdisciplinary and translational research into real-world solutions.