Paul Richmond honoured for contribution to Society of Research Software Engineers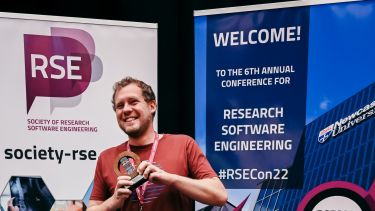 Prof Paul Richmond, director of the Research Software Engineering Group at the University of Sheffield, won the 2021 Outstanding Contribution Award at the Society's recent annual conference.
The Society of Research Software Engineering was established in 2019 to help recognise and celebrate a field that has long been unrecognised in academia. The name of the role itself - Research Software Engineer - was only settled upon in 2012 following a grassroots movement seeking to recognise and define a career path for a profession whose work had never been clearly defined.
Now the Society - which describes its mission as establishing a research environment that recognises the vital role of software in research - is working to increase software skills in research, promote interdisciplinary collaboration and grow its burgeoning community.
Paul, who is a passionate advocate for the community, served as President of the Society from 2020 - 2021. His tenure coincided with the outbreak of the Covid-19 pandemic and, as well as guiding the Society through unchartered territory, Paul put structures and governance in place that continues to guide the organisation.
"It was humbling to be honoured by the Society of Research Software Engineers and I'd like to thank everyone involved for their support and hard work during what was a particularly challenging period," said Paul.
"I am still working closely with the Society and I look forward to seeing it continue to grow and go from strength to strength in the years to come."
Thursday the 13th October is international RSE day. You can find out more about the Society of RSE and how to get involved here. 
Flagship institutes
The University's four flagship institutes bring together our key strengths to tackle global issues, turning interdisciplinary and translational research into real-world solutions.