Professor Philip Green
PhD
Department of Computer Science
Professor of Computer Science
Member of the Speech and Hearing (SpandH) research group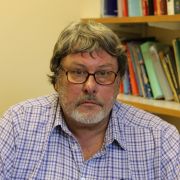 Profile

Phil Green is a Professor of Computer Science in the Speech and Hearing group which he founded when he came to Sheffield in 1985. His first degree, in Cybernetics was awarded by the University of Reading in 1967 and his PhD, from Keele University, in 1971.

He was head of Computer Science from 2004 to 2008.
Research interests

Professor Green has worked in several areas of speech research, particularly Automatic Speech Recognition, Auditory Scene Analysis and, latterly, Clinical Applications of Speech Technology. He has been involved in research projects worth around £30m and has coordinated 5 International collaborations.
Publications

Journal articles

Chapters

Conference proceedings papers
Grants

Current grants

CLOUDCAST: A cloud-based computational resource for clinical and educational applications of speech technology, LEVERHULME TRUST (THE), 01/2015 to 12/2018, £124,994, as PI
Speech Technology for Articulation Rehabilitation, NATIONAL INSTITUTE FOR HEALTH RESEARCH, 02/2015 to 07/2017, £271,158, as Co-PI
SRAM: Speech Rehabilitation from Articulator Movement, NATIONAL INSTITUTE FOR HEALTH RESEARCH, 01/2016 to 12/2018, £196,123, as PI
CLOUDCAST: A cloud-based computational resource for clinical and educational applications of speech technology, TORONTO REHABILITATION INSTITUTE - UNIVERSITY HEALTH NETWORK, 01/2015 to 12/2018, £27,000, as PI

Previous grants

Studentship, NOKIA RESEARCH CENTRE, 01/2000 to 12/2002, £31,300, as PI
Speech recognition for people with severe dysarthria, BARNSLEY HOSPITAL NHS FOUNDATION TRUST, 08/2000 to 08/2003, £103,146, as PI
Inter-formant intelligibility dips for narrowband speech, EPSRC, 12/2000 to 11/2001, £33,536, as PI
HOARSE: Hearing Organisation And Recognition of Speech in Europe, EUROPEAN COMMISSION - FP6/FP7, 09/2002 to 08/2006, £131,793, as PI
Multisource decoding for speech in the presence of other sound sources, EPSRC, 07/2002 to 12/2005, £271,630, as PI
Studentship, MOTOROLA INCORPORATED, 11/2001 to 10/2004, £42,000, as PI
Studentship, MOTOROLA INCORPORATED, 11/2001 to 10/2004, £42,000, as PI
AMI: Augmented Multi-party Interaction, EUROPEAN COMMISSION - FP6/FP7, 01/2004 to 12/2006, £413,049, as PI
VIVOCA: Voice Input Voice Output Communication Aid, BARNSLEY HOSPITAL NHS FOUNDATION TRUST, 01/2005 to 10/2008, £178,529, as Co-PI
SPECS, BARNSLEY HOSPITAL NHS FOUNDATION TRUST, 02/2006 to 11/2010, £193,163, as Co-PI
Studentship, EPSRC, 01/2005 to 03/2011, £125,000, as PI
REdRESS: Recognition and Reconstruction of Speech following Laryngectomy, UNIVERSITY OF HULL, 03/2009 to 02/2012, £59,275, as PI
VIVOCA II: Voice Input Voice Output Communication Aid, BARNSLEY HOSPITAL NHS FOUNDATION TRUST, 06/2010 to 05/2013, £213,792, as Co-PI
CHIME: Computational Hearing in Multisource Environments, EPSRC, 06/2009 to 05/2012, £326,245, as Co-PI
SCALE: Speech Communication with Adaptive LEarning, EUROPEAN COMMISSION - FP6/FP7, 01/2009 to 12/2012, £284,423, as PI
Natural Speech Technology, EPSRC, 05/2011 to 07/2016, £1,798,665, as Co-PI
DiSARM: Digital Speech Recovery from Articulator Movement, NATIONAL INSTITUTE FOR HEALTH RESEARCH, 10/2011 to 07/2015, £282,898, as PI