Research Excellence Framework 2021
The Research Excellence Framework (REF) confirms our place as a world-leading university. The results show our research and impact excellence across a broad range of disciplines and demonstrate that our research is having a significant positive impact on lives across the globe.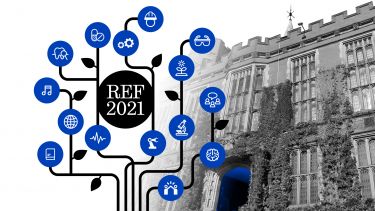 The REF assesses the quality and impact of research taking place in UK universities. The results inform the allocation of around £2 billion per year of public funding for universities' research.
Research that changes lives
The Research Excellence Framework (REF) 2021 results confirm our research is changing lives and shaping the world we live in.
Our vision is to produce the highest quality research to drive intellectual advances and address global challenges. The REF results demonstrate that we are advancing towards this goal. 
The REF is a retrospective exercise looking back over seven years of incredible research at our University. We're proud of everything that our researchers, and those that support our research environment have achieved. But we're also excited for the future and the inspiring discoveries we are yet to make.
99 per cent of our research is rated in the highest two categories in the REF 2021, meaning it is classed as world-leading or internationally excellent. 
We are rated as 8th nationally for the quality of our research environment, showing that the Department of Computer Science is a vibrant and progressive place to undertake research.