University will be part of some of the best and most important years of your life

Catalin Mares
Software Engineer for Sky Betting and Gaming
BSc Computer Science
2019
After graduating Catalin worked as a Gradate Software Engineer for BJSS. BJSS work with many companies, one of the biggest being NHS. The project he worked on was the maintenance and improvement of a big international e-commerce company called Specsavers.
Catalin then moved to work for Sky Betting and Gaming as a Software Engineer where he currently still works. He is working on the biggest and most important project within the company which involves developing Safer Gambling tools.
What are you main responsibilities
My main responsibilities are as follows:
Design and write software 
Support the test engineers in understanding the scope of the work
Come up with innovative solutions to improve the experience for our customers 
Code reviews
Pair programming to help graduates from non programming backgrounds 
Delivering demonstrations of code and new functionality of the system to the team and management when new project milestones are passed 
Can you describe a typical day
My typical day can vary from time to time. At the moment during these uncertain times I am working from home for the forceable future.
Usually in the office I would start my day off arriving between 9-10 and the first thing to do is to grab a coffee and catch up with my team in regards to what they've been to at the weekend or evenings , just a bit of casual conversation. At 10 we have our daily stand up ceremonies where we talk about what we have achieved the previous day, any blockers we may have and what the goal is for the day. This gives everyone the chance to have an overview of what people are getting up to and help each other. I would then head to my desk and check any code reviews I need to look through from the previous day of work. I then get in with some work up until lunch. For lunch usually I go out to a local restaurant with my team and we have a nice meal together. After lunch I juggle meetings and any further work. At the end of the day I either attend the gym or stay at the office playground area with some colleagues to play table tennis and watch football.
What is the most rewarding aspect our your current role or greatest achievement so far?
The most rewarding aspect of my role has been teaching other graduates the fundamentals of software engineering and mentoring them. Being given the opportunity to pair program, share my knowledge and present in front of others has greatly improved my confidence and taken my public speaking skills to the next level. Seeing others succeed off the back of your teaching feels like the most rewarding accomplishment.
Are there any challenging aspects? If so what are they?
There are many challenging aspects within the industry. I would say the most challenging aspect would be staying relevant and up to date with the technology. The IT industry is a fast paced environment and in order to stay relevant within the workforce and help your company remain at the top every employee has to sharpen their skills regularly.
What skills/qualifications from your degree or other training do you make use of in your job?
Overall I use many of the skills learnt at university to problem solve at work and within my day to day life. The software hut project is a project that has changed my views the most and taught me how things work within the industry. I had the chance to work with a real client on a project that could end up being used and impact people's lives in a positive manner which is what I strive in doing. During the project I learnt how to work in a team, use version control, communicate with clients to gather requirements and dynamically adapt the project to fit the changing of needs from the client. I learnt that sometimes things do not go to plan exactly the way you thought and that is ok. Agile development is the key to a successful project to adapt to the rapid change in requirements and deliver the product the client actually desires.
How have these skills or your course made a difference in your career?
The skills I have learnt at university have been key for me in landing a great job even before graduating. I've felt confident from day one in my job knowing about the concepts of software engineering and having plenty of theoretical and practical experience working in a team and in an agile delivery environment.
Why did you choose to study at Sheffield?
I have chosen to study at Sheffield as the Computer Science course was a right fit for me with an even balance between theory and practical work. The resources are also great with the addition of The Diamond building which was finished just when I joined Sheffield, everything was cutting edge. The students union is the best in the country year after year which is another huge contributor to the decision. University is about personal development , being independent and having fun. The city and the university was a great match for all these fundamental experiences !
Did your time at Sheffield meet your expectations?
My time at Sheffield was beyond my expectations. I've made endless memories and friends for life. 
What were the best things about studying in the Department?
The opportunity to work with real clients and the support and connections the department has with potential employers. The reputation of the department is an added bonus when applying for jobs as it is known for the high quality of teaching.
What did you like best about Sheffield?
The best thing about Sheffield was the diversity you can find within the city and university. This gave me the opportunity to meet people from all over the globe and learn more about other peoples traditions and cultures.
Where do you see yourself in the future?
In the future I hope to carry on developing my skills and creating software that improves peoples day to day lives. Ultimately I would hope to gather enough experience and open my own startup company.
If you could give one piece of advice to current students or recent graduates what would it be?
University will be part of some of the best and most important years of your life. You will make many memories , undergo changes , develop yourself , learn new things and make friends for life. Enjoy the process and cherish every moment.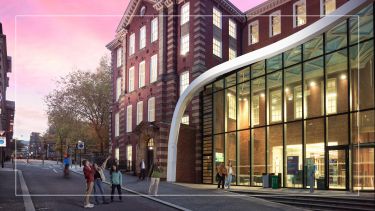 Visit us
Discover what sets Sheffield apart at our undergraduate open days on the Saturday 21 October or Saturday 18 November.