I left Sheffield not only with an excellent career perspective but also with good friends and skills for life

Laura Craciun
Automation Developer, Voadafone
MComp Artificial Intelligence and Computer Science
2015
Since graduating from the University of Sheffield, Laura's career has gone from strength-to-strength, and she now works as a Developer on the Pega automation platform within the Automation and Robotics domain at Vodafone UK.
Fresh from her degree, Laura started working as a software developer for the biggest property search provider in the country, PSG Connect Ltd. Two years and a half later, the company was acquired by a technology company (Property Information Exchange Ltd) from the same industry sector. After a year and a half spent at Property Information Exchange Ltd, she decided it was time to make a change in her career. She is now working as a Developer on the Pega automation platform within the Automation and Robotics domain at Vodafone UK.
What are your main responsibilities?
My main responsibilities are designing, developing and implementing automation solutions to enable the business to do more, faster and easier.
Can you describe a typical day?
Every morning, I align on progress with my team and devise a plan for the day. Throughout the day, I work collaboratively with my colleagues to develop new features and use problem-solving skills to resolve bugs. There are many opportunities to learn new skills from both my team and the courses available!
What is the most rewarding aspect of your current role or your greatest achievement so far?
I find the most rewarding aspect of my current role is that I'm always learning new technologies, methods and concepts. I also get to share my experiences with undergraduate and Y12 students via talks.
Are there any challenging aspects? If so what are they?
Deadlines can be challenging and because technology moves so fast, I must keep up with it! I strongly believe continuous learning is the key to keep afloat in this profession.
What skills/qualifications from your degree or other training do you make use of in your job?
The core skills around programming that I learned using Java, MATLAB, and Ruby on Rails were easily transferable. This has made learning new technologies easier and faster!
How have these skills or your course made a difference in your career?
The industry oriented modules such as Software Hut and Genesys made great difference in my career. Apart from giving me a truly valuable industry experience, they also helped me adapt quicker in my job as I was already familiar with agile practices and methodologies. The presentation skills I acquired at the university, I use a lot now in my talks with undergraduates.
Why did you choose to study at Sheffield?
Apart from being ranked as one of the most prestigious universities in the world, what ultimately made me choose Sheffield was the fact that I absolutely enjoyed the Open Day I attended. It felt like home despite being very far way from home. Everyone was so friendly, welcoming and supportive not only on the day but throughout my whole degree as well. I am convinced I wouldn't have had the same experience elsewhere. It was probably one of the best decisions I have ever made in my life!
Did your time at Sheffield meet your expectations?
It certainly did! I left Sheffield not only with an excellent career perspective but also with good friends and skills for life. Sheffield will always be my second home.
What were the best things about studying in the Department?
I loved the fact that everyone was very friendly and supportive. The lecturers, project supervisors and the personal tutors were always happy to help even outside the office hours. I left university extremely well prepared for a career in programming and technology.
What did you like best about Sheffield?
You can never be bored in Sheffield! I really enjoyed going for walks in the Peak District, which is only 5 minutes away from the city. The Botanical Gardens is a great place to spend time reading, revising or enjoying a picnic with friends. There's a large variety of places to eat, independent coffee shops and the people are very friendly and welcoming! Also, it is not difficult to find a nice place to live,  even in the heart of the city, as the accommodation prices are fairly reasonable.
Where do you see yourself in the future?
I see myself running my very own start-up in Automation and Artificial Intelligence.
If you could give one piece of advice to current students or recent graduates what would it be?
I would tell them to enjoy their time at the university and manage their time effectively. Flexibility in programming (i.e. not being afraid to switch from a familiar programming language to a completely new one) is the underpinning of a successful career based on my experience. Getting out of your comfort zone and willing to learn new technologies is greatly appreciated by most companies. Challenges help you grow both as a professional as well as an individual.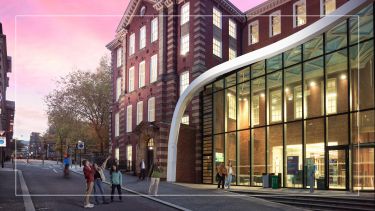 Visit us
Discover what sets Sheffield apart at our undergraduate open days on the Saturday 21 October or Saturday 18 November.