2021 Dutch Year Abroad: Teaching English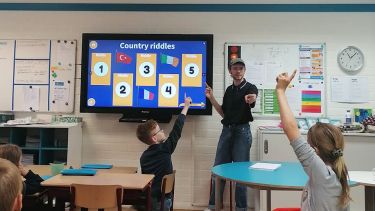 "My name is John and I'm a third-year student currently doing my year abroad in the Netherlands. I am working for the Such Fun programme that offers English tuition in primary schools to children from ages 4-12.
In January 2021 I had to start my placement online from England due to travel restrictions put in place by the Dutch government. All schools and education centres were also shut in the Netherlands, so it was not only me who had to work remotely. For the first three months of my placement, I was preparing lessons and materials that would then be sent home to the pupils for them to complete themselves. While it was challenging, it was quite a nice way of getting to know the people in my Such Fun team as we had regular meetings to make sure everyone understood what was happening with each lesson.
For a long time I didn't really think teaching would be my thing, but I surprised myself, because I'm finding it really fun.

John Cairns

BAMLC, Third Year Abroad
In late April, after lots of paperwork and admin, I made it to the Netherlands and I have now done my first days in an actual school! I found my first day of teaching very nerve wracking. After almost a year and a half of having minimal social contact, being in a room with 20 children all looking at me was a big change! But after the nerves had worn off, I began to really enjoy the lessons. The children were really enthusiastic and excited to learn English and to actually speak with a native English speaker! 
This placement is very different from my first semester experience when I was studying at a university in Spain. I am excited to push myself and develop new skills, which is why I decided to combine university study with this work placement. I have been able to try out new software and it has taught me to look at problem solving in a different way; to see it as a challenge rather than a hindrance.
And the highlight so far
Working with my colleagues at Such Fun has definitely been the highlight so far; they are all really lovely and supportive and will speak to me in Dutch where possible, to give me a chance to practise and speak the language, even when I was stuck in England. They have taught me so much already and they are all very passionate about what they do, even when circumstances are difficult. I have so much respect for them and how they've overcome the obstacles facing them to produce truly outstanding work."
A teaching placement with Such Fun is a popular choice for our students. Alternatively, you can opt for university study – we have exchange agreements with Utrecht, Nijmegen, Groningen, Gent, Brussels) or go for a work placement in Flanders or the Netherlands. The choice is yours; we are here to support you. 
A world-class university – a unique student experience
Sheffield is a research university with a global reputation for excellence. We're a member of the Russell Group: one of the 24 leading UK universities for research and teaching.