Dutch Finalists translate theatre text by Belgian writer Rashif El Kaoui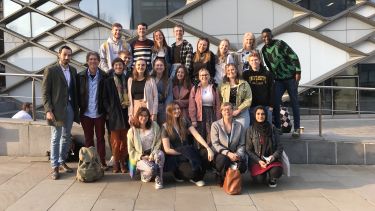 From 2-24 March 2022, Rashif El Kaoui visited Sheffield as our Taalunie Writer in Residence 2022. Together with colleagues at UCL and with the professional guidance of literary translator Jonathan Reeder, our finalists in Dutch put themselves to translating El Kaoui's critically acclaimed theatre text De bastaard. We asked Lauren Dalton, BA Modern Languages and Cultures (French, German and Dutch) to look back on her experience. 
"It was so exciting to have the opportunity to gain practical experience in literary translation and to be able to put our language skills into practice. The Dutch translation project has been such an interesting and enriching process. That our work is published on a leading international Dutch Studies website made the project even more rewarding. It is so good to feel that even as students, we contribute to cultural exchange that would not have taken place without us. 
We initially worked on our sections individually, before coming together in small groups to produce a group translation of Rashif El Kaoui's performance text. This process involved a lot of discussion, writing, rewriting, research and reflection. We found ourselves in various rabbit holes, trying to find out how many synonyms there are for the word 'miner' (the answer: not that many) or searching for fowl-related metaphors (even fewer). One of the highlights of this project was how well my group worked together.
Talking through our translation issues is what helped us to solve them – whether that was in our groups, in class, or on our digital discussion board where we could put our questions to Rashif.

Lauren Dalton

BA Modern Languages and Cultures (French, German and Dutch)
Being able to draw on the experience of a professional translator like Jonathan Reeder was invaluable. It is true: translation is so much more than simply translating words from one language to another. You have to do your research to be able to convey cultural nuances, and because De bastaard is a text meant to be performed it also has to sound good! That means reconstructing rhythmic and stylistic choices and reading out loud. Can we lose this alliteration? Can we make up for it somewhere else? How many liberties can one take? You have to become the author of a text that has already been written. I discovered that often, translation can be a wearisome, yet worthwhile, journey. 
Translation Symposium
At the end of the project we held a Translation Symposium, where everyone involved came together to reflect on the translation process and to enjoy the fruits of our labour. It was incredibly rewarding to see that we were able to do Rashif's work justice and produce a piece of work that was equally as powerful as the original.
I enjoyed this experience so much that I am now seriously considering a career in translation in the future!"
Lauren Dalton
The Writer in Residence is a project sponsored by the Dutch Language Union (Taalunie) and Literature Flanders (Vlaams Letterenfonds). 
Explore the University
Discover why Sheffield is the right choice for you at one of our open days or events.