Undergraduate Dissertation Prize 2020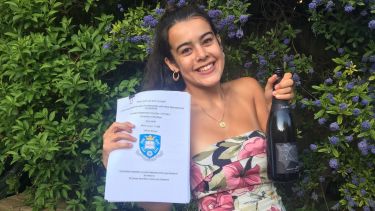 The Undergraduate Dissertation Prize is awarded in recognition of the outstanding work and the exceptional achievement of a student on the Education, Culture and Childhood BA. Tallullah Clark is this year's worthy winner of the prize.
On receiving the award, Tallulah said, "I feel so honoured, having a rare neurological condition (Ataxia), has made university more of a challenge than expected. But being misunderstood and the obstacles I have faced have propelled me to work harder to raise awareness within society, specifically within the education system. I wanted to gain an eclectic insight into these challenges and that's why it was important to include a teacher as well a student belonging to the neurodiverse community. I hope that in the future I can continue to raise awareness about the often invisible social and physical barriers that neurodiverse individuals face daily."
Professor Dan Goodley judged the dissertations this year. He praised Tallulah's work, commenting, "This dissertation is a rare combination of politicisation, personal narrative, supported by further empirical work, rolled together into a knowing scholarly piece of writing. The theoretical voice is strong but reflexive and there is an uncanny knowing quality in the work of the deeply ableist structures within education and communities. It is compelling and powerful, personal and political and, dare I say, a dissertation that captures the interdisciplinary quality of our BA course. I loved it."
We wish Tallulah all the very best in pursuing her interests and look forward to hearing more about the developments in her research.
Explore the University
Discover why Sheffield is the right choice for you at one of our open days or events.