Dr Liz Chesworth
BA (Hons), PGCE, SFHEA, PhD
Lecturer in Early Childhood Education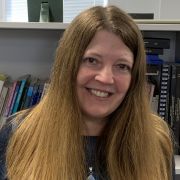 Research interests

Critical perspectives of play and curriculum in early childhood education

Liz's research focuses upon play and curriculum in early childhood education. Her research problematises the instrumental discourse that informs many curriculum frameworks and investigates approaches to curriculum decision-making that are responsive to children's diverse experiences, interests and inquiries. Liz is interested in methodologies to enable children's participation in research. She has drawn upon children's perspectives to explore issues of power, agency and choice within classroom peer cultures

Creativity and digital literacy in early childhood

Liz is interested in creative pedagogies for early childhood education and the possibilities that new technologies afford for the development of new pedagogies and learning environments.

Current research projects include:

Recent research projects:

Makerspaces in the early years: Enhancing digital literacy and creativity (MakEY) 

Awarding body: European Union Horizon 2020 Research and Innovation Programme.
Principal Investigator: Professor Jackie Marsh (University of Sheffield) (2017-2019).
Publications

Journal articles

Chapters

Reports

Datasets
Research group

#supervisionaries - stories of brilliant doctoral supervision

I would like to nominate both of my supervisors, Liz Wood and Liz Chesworth.

They are incredibly supportive of my thinking and have encouraged me to pursue theories and methodologies outside of the norm. They have trusted me to be creative and to explore my thinking and this means so much.

My supervisions are full of lively conversation and their critiques are done in such a way to fine-tune my thinking. It has been a privilege to have them and I feel lucky and proud to say I am supervised by them and they treat me as an equal, this is particularly moving for me.

I'm a first-generation university attendee and they make me feel like I belong to this gang. Having co-supervision has worked really well for me.

I have shifted my identity from academic to scholar through their wise counsel.

My supervisions are a highlight for me, the support they give through e-mail on my draft writing is always thoughtful and questioning and supports me in developing my thinking and writing. I'm proud to be a Sheffield EdD student and don't want it to end.
Teaching activities

Liz has worked in the field of early childhood education throughout her career and has taught in nurseries, children's centres, primary schools and universities. She is module leader for the undergraduate module EDU108: Social and Historical Constructions of Childhood and contributes to module EDU105: Critical Curriculum Study.

Liz directs the following Masters programmes:

MA Early Childhood Education (full time)

Liz supervises undergraduate, masters and doctoral students in the areas of:

Critical curriculum studies in early childhood education
Young children's funds of knowledge
Critical perspectives of play in early childhood
Young children's peer cultures
Critical sociocultural theory in early childhood education
Inclusive education for young children
Multimodality in early childhood
Posthuman theory in early childhood
Professional activities

Member of Research subcommittee, The Froebel Trust.

Assistant Editor: Journal of Early Childhood Research

Member of Editorial Board: International Journal of Play

Reviewer: International Journal of Research and Method in Education; International Journal of Early Years Education; Early Years: An International Research Journal; International Journal of Early Childhood Research; International Journal of Early Childhood Literacy; International Journal of Qualitative Research in Education; British Educational Research Journal.