EpiPix Ltd developing "game-changing micro-LED technology"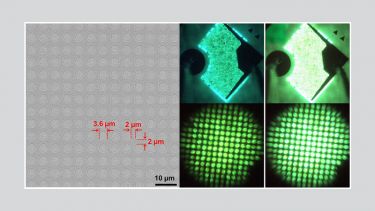 Underpinned by research from Professor Tao Wang and his team at the Centre for GaN Materials and Devices the company is collaborating with global corporations on next generation micro-LED product developments.
This pre-production technology has already been demonstrated for multi-colour micro-LED arrays on single wafers with high light efficiency and uniformity.
EpiPix is developing robust micro-LED epiwafers and product solutions for red, green and blue wavelengths with micro-LED pixel size ranging from 30 microns down to 10 microns and with less than five microns diameter prototypes demonstrated successfully.
---
Currently, there are a number of fundamental challenges in fabricating high performance micro-LEDs with a diameter below 5 µm, which are particularly important for AR and VR micro-display. Very recently, we have developed a novel but cost-effective approach, achieving ultra-small and ultra-bright micro-LEDs with record efficiency.

These results have also been published in a high profile journal, ACS Photonics. The vision of EpiPix Ltd aims to turn the major technological breakthrough into world-leading products, eventually becoming a global manufacturer in this area in the next five years.

Professor Tao Wang

Director of the Centre of GaN Materials and Devices
---
This is an exciting opportunity, and great timing in the micro-LED markets, for turning excellent science into profitable micro-LED products. We are already engaged with industry customers to ensure that EpiPix aligns with their short-term product requirements and future technology roadmaps.

Dennis Camilleri

CEO and Director of EpiPix
---
Flagship institutes
The University's four flagship institutes bring together our key strengths to tackle global issues, turning interdisciplinary and translational research into real-world solutions.