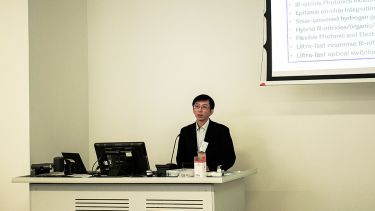 The event also provided an opportunity to introduce the University of Sheffield's partnership with new EPSRC Centre for Doctoral Training in Compound Semiconductor Manufacturing and describe the various ways that UK companies can be involved with training the future workforce for this sector.
Professor Tao Wang, Director of the Centre for GaN Materials and Devices welcomed semiconductor electronic and photonic companies from across the UK and described the Centre's internationally leading III-nitride expertise – from advanced epitaxial growth through material characterisation to device fabrication and extensive facilities.
He explained the technologies developed by the centre and their advances in the field of III-nitride semiconductor materials and devices. This research is widely recognised through a strong publication record, a wide range of citations and frequent highlights in major semiconductor magazines.
The team's research on semiconductor devices includes:
photonics
electronics
monolithic on-chip epitaxial integration of electronics and photonics
hybrid III-nitride/polymer optoelectronics
solar energy devices
---
"GaN semiconductor growth is typically based on lattice mismatched hetero-epitaxy, namely, GaN on silicon and sapphire. Therefore, a number of great challenges will have to be overcome in order to achieve high crystal quality on these foreign substrates.

The Centre has developed a number of novel but cost-effective overgrowth approaches, for example leading to a step change in the crystal quality of semi-polar or non-polar GaN on either sapphire or silicon, which can fully meet the device requirements.

In parallel to developing epitaxial growth technologies, the GaN Centre has devoted substantial efforts to establishing leading technologies in device fabrication, such as micro-LEDs and epitaxial integration of electronics and photonics.

Professor Tao Wang

Director of the Centre for GaN Materials and Devices
---
Why GaN?
GaN can support higher voltage than silicon which results in higher power and superior GaN based electronic devices.
With its excellent temperature stability, ultra-fast conversion and large, safe bandwidth GaN is an ideal compound semiconductor for many emerging and developing technologies such as visible light communication (VLC), 5G, LiFi, energy efficient lighting, solar cells and hydrogen generation.
The fast transition time means that GaN is also the best choice for ISB, power and RF devices.
GaN based emitters can emit light from infra-red, through the whole visible spectrum to deep UV. Professor Wang explained:
"Our standard blue and green LEDs already have a very high performance but we have also developed high performance semi-polar LEDs specifically for longer wavelength up to amber which bridge the "green/yellow" gap and hybrid III-nitride/organic devices for high efficiency white LEDs.
Other exciting areas of research include on-chip integration of electronics and photonics and developing III-nitride micro-LEDs for next generation displays."
Growth and fabrication of microLEDs
Recently, there has been a particular focus on microLEDs. This exciting field is estimated to have a 4bn market by 2025 and will have applications in HD digital display, smart watches, smart phones and AR/VR.
So far, the Centre has established a number of patented technologies in the growth and fabrication of microLEDs. Very recently, the GaN centre has demonstrated a new fabrication process for green InGaN microLEDs that achieves high brightness compact microLED arrays with a record external quantum efficiency.
World-class facilities
Facilities at the Centre include an ultrahigh temperature AIXTRON reactor. Professor Wang explains:
"The Centre is equipped with two III-nitride MOVPE systems (the ultra-high temperature capability dedicated to RF/Power GaN device growth). The team has extensive, state-of-the-art facilities for material characterisation and device testing for advanced III-nitride research and full access to the world-class cleanroom for device fabrication, hosted by the Department of Electrical and Electronic Engineering."
Working with industry
Professor Wang concluded his presentation by describing the ways in which industry can become involved in the Centre's research.
"We are very keen to work with industry partners and support the UK semiconductor industry and there are many ways to get involved with the Centre, from long term membership to one-off projects – with options to suit any size of company. If you have specific ideas you'd like to discuss please get in touch." Professor Tao Wang, Director of the Centre for GaN Materials and Devices.
The Centre for GaN Materials and Devices is also part of the EPSRC funded Future Compound Semiconductor Manufacturing Hub – working with other universities and industrial partners to boost the uptake and application of CS technology.
Investing in future compound semiconductor manufacturing and research skills
Terri Delahunty – Project Manager for the EPSRC Centre for Doctoral Training (CDT) in Compound Semiconductor (CS) Manufacturing – introduced the opportunities for photonics and electronics companies to help shape the training on offer and engage with graduates and the wider compound semiconductor community.
She explained that the CDT aims to support UK companies to exploit the highly advantageous properties of compound semiconductors and develop PhD graduates with multidisciplinary skills in this active research area. It offers a unique programme that provides a holistic understanding of the entire manufacturing process as well as expertise in at least one stage.
Industrially relevant training will include links with industry and practical training in a 'nursery' clean room. The opportunities for companies include:
collaborating on projects which are aligned to company needs
supporting PhD students
hosting student placements
delivering guest lectures
invitations to the annual student showcase and careers fairs
The CDT is currently recruiting for the PhD programme which consists of 4 years of study and includes a fully-funded MSc and PhD.
The day concluded with a tour of the research facilities in the Nanoscience and Technology Centre.
---
Contact us to find out more about our research and opportunities for collaboration or to be a part of our next open day.
A world top-100 university
We're a world top-100 university renowned for the excellence, impact and distinctiveness of our research-led learning and teaching.