The Department of Geography enjoys excellent rates of success in securing funding for high quality PhD students.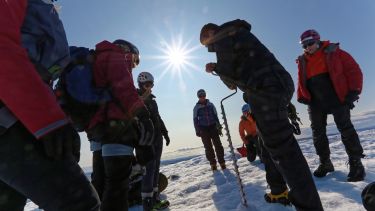 There are two main routes to secure funding from the University of Sheffield and related sources:
Competition funding allows you to apply for funding for your own PhD project
Project funding allows you to apply for an existing project with funding attached to the position
Competition funding
Applications for PhD scholarships scholarships for the 2020-21 academic year are now closed. In the interest of fairness, late applications will not be accepted. Decisions will be issued in the coming months. If you've not heard the outcome of your application by 30 April 2020 please email pgr-funding@sheffield.ac.uk.
Project funding
Project funding may be announced at any time of the year. Please check back regularly for any updates. We currently have one funded project available:
Palaeoglaciology of Eurasian ice sheets
Application Deadline: 20 March 2020
Supervisor: Dr Jeremy Ely
The future of our current ice-sheets, in Antarctica and Greenland, is uncertain. To make better predictions of how much these ice-masses will contribute to future sea-level rise, we need to improve numerical models of how ice-sheets work. Two approaches to doing this are: i) validate our models against data; and/or ii) improve our process understanding of ice sheets.

In this project, we will conduct both of the above approaches. The PhD candidate will learn how to apply ice-sheet models (e.g. PISM) to one or more of the former Eurasian ice sheets (e.g. British-Irish, Fennoscandian, Barents Sea). The main aim will be to develop tools which compare modelled simulations with geomorphological and geochronological evidence of former ice sheet behaviour. This includes newly collected evidence regarding the former ice-flow direction and margins of the Fennoscandian Ice Sheet (from moraines, drumlins, eskers and subglacial ribs).

The candidate will need a background in Quaternary science, glaciology and/or geomorphology. Training in using the ice-sheet model will be provided, so no prior experience is needed. A 1st or 2i class degree is required, MSc not essential.

The student will benefit from being part of the new PALGLAC project team comprising three other PhD students, four postdoctoral researchers and around 6 staff members. This team is funded by an ERC Advanced Grant project (2018-2023) led by Chris Clark. Some fieldwork opportunities are expected to arise if interested. You will join Sheffield's Ice and ClimatE Research (ICERs) group and gain from its world-leading expertise and enthusiasm for palaeoglaciology.

The project will be supervised by Dr Jeremy Ely, Prof. Chris Clark (The University of Sheffield) and Dr Anna Hughes (University of Manchester). Please email Dr Jeremy Ely with any further queries or expressions of interest (j.ely@sheffield.ac.uk).

The section process with take place as soon as possible after the closing date and successful applicants will be notified promptly.
Previously funded projects
Adapting to the Challenges of a Changing Environment

This year, our NERC funded doctoral training partnership Adapting to the Challenges of a Changing Environment is offering 5 Geography projects aligned with the grand challenges in environmental research.

ACCE is a partnership between the Universities of Sheffield, Liverpool and York, and the NERC's Centre for Ecology and Hydrology (CEH) providing doctoral training in the biological components of the natural environment and related disciplines.

Building Climate-Smart Soils

Lead supervisor: Dr Manoj Menon
Co-Supervisors: Dr Sylvia Toet, Dr Jill Edmondson

The objectives of this project are:

Monitor C and macronutrient (N and P) transformations, including GHG emissions (CO2 and N2O) in biochar-amended soils. This will involve wet laboratory analyses and novel imaging techniques at Diamond Light Source. Quantify water retention and soil structural changes due to biochar amendments in parallel with changes in soil macrobiota (earthworms) and total microbial biomass. Assess the impacts of biochar amendments on plant growth and crop yield.

Neanderthal evolution in Pleistocene Gibraltar: reconstructing the environmental context

Lead supervisor: Prof Ed Rhodes
Co-Supervisors: Dr K Penkman

The aim of this project is to unlock records of high magnitude rapid environmental change in the Gibraltar region using coupled amino acid racemization and luminescence dating of sediment archives, in order to better understand the context in which Neanderthal occupation and evolution took place. These sedimentary archives indicate that past high magnitude environmental change was accompanied by widespread landscape modification in Gibraltar and the surrounding region. Understanding climatic drivers and environmental responses at the Gibraltar Neanderthal world heritage site can be achieved by strategically combining recent developments in optically stimulated luminescence (OSL) and amino acid racemization (AAR) applied to key Pleistocene sedimentary archives.

Pattern and timing of the advance and retreat of the Scandinavian Ice Sheet across northern Europe

Supervisor 1: Professor Chris Clark
Supervisor 2: Dr Stephen Livingstone
Supervisor 3: Professor Ed Rhodes

Collaborators: Dr Anna Hughes (Manchester Univ.); Assoc Prof Christopher Lüthgens (BOKU, Vienna) and Prof Jan Piotrowski (Aarhus Univ.); Dr Jeremy Ely and Prof Mark Bateman (Sheffield Univ.); Dr Marek Ewetowski (Adam Mickiewicz University)

This PhD project will use high-resolution digital elevations models and satellite images to systemically map ice marginal landforms across northern Europe. A landform-based synthesis of the pattern of advance and retreat will be constructed and related to the known stratigraphy. The palaeoglaciological controls (climate, ice streaming, lobe interactions, hydrology) on ice extent and recession will be investigated. The timing of selected limits and events will be investigated using geochronological techniques, with samples for analysis obtained by collaboration and targeted fieldwork. As part of this, we will investigate some experimental Optically Stimulated Luminescence (OSL) techniques that aim to gain information on advance ages from palimpsest palaeodose signals because of sediment recycling.

WroCAH AHRC Competition Studentships

White Rose College of Arts and Humanities is funded by the AHRC and involves the Universities of Leeds, Sheffield and York.

Doctoral training with WRoCAH takes a collaborative approach to equip high-achieving researchers with the skills and experience to become leaders in their chosen fields. The college works closely with leading external organisations from sectors including museums, galleries, archives and libraries; arts and heritage organisations; creative industries; design, manufacturing and retail; publishing and performing arts; media; and charities and the public sector.
Find a PhD
Search for PhD opportunities at Sheffield and be part of our world-leading research.