The Department of Geography enjoys excellent rates of success in securing PhD funding for high quality applicants.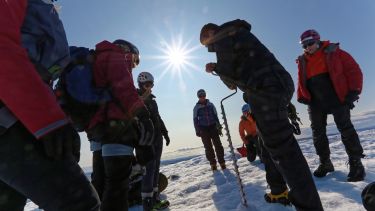 The main route to secure funding sources for PhD study commencing Autumn 2022 will be via our applicant-led scholarship opportunities. These include scholarships available through our participation in several NERC, ESRC and AHRC-funded Doctoral Training Centres/Partnerships. Several of our scholarship routes include funding that is reserved for BAME candidates (note that eligible candidates do not need to apply for these routes specifically and should instead follow the standard application process described below).
To be considered for scholarship funding, applicants must have:
accepted an offer of a place of study (

see how to apply

)

completed the scholarship section of the application form
We strongly advise scholarship applicants to have completed both of the above elements by Friday 14th January 2022. Note that both steps require you to include a research proposed detailing your proposed project. You can re-enter your application to complete the scholarship section after you have accepted your offer of a study place.
For applicant-led opportunities, applicants must develop their own research proposal on a topic within the remit of the desired scholarship scheme. However, we occasionally are also able to advertise "project-led" opportunities, where we seek applicants for a topic that has already been developed.
This page is updated with opportunities as they become available, so we recommend you check this page regularly.
---
For the following opportunities, applicants must first complete a successful application to the department for PhD study and then complete the scholarship section of the online application form by 5pm Friday 14th January. These opportunities are applicant-led, meaning the applicant is responsible for the design of the PhD topic and research approach.
Please see our Find a Supervisor page to consult a member of staff about your idea before applying. Further details of the following opportunities can also be found on the Faculty of Social Sciences Graduate School website.
White Rose Doctoral Training Partnership ESRC Pathways Studentships
Numerous awards are offered that are suitable for social science PhD topics that fall within any one of seven themes.
White Rose College of Arts and Humanities (WroCAH) AHRC Studentships
Numerous awards are offered for PhD topics that fall within the research remit of the Arts and Humanities Research Council.
---
Project funding may be announced at any time of the year. Please check back regularly for any updates. It is recommended that you apply for acceptance to postgraduate study, citing the funding scheme you are thinking of, whilst waiting for any announcements to be made. Note that funding is competitive and awarded to the best applicants, meaning funding will not necessarily be awarded to all advertised projects.
ACCE Doctoral Training Partnership (NERC) Scholarships
Three Geography-led projects are being advertised (deadline 5pm 14th January 2022) for possible funding as part of the NERC-funded DTP Adapting to the Challenges of a Changing Environment (ACCE). Any scholarships awarded to Geography will be able to cover tuition fees at the UK or international level.
Earthworms as ploughs and bioreactors: optimising management for sustainable soils

Is Greenland greening? Biogeomorphic interactions in the ice sheet forelands

Dynamics of 'Glacier Blood' microbial ecosystems in the European Alps
WRoCAH (AHRC) Collaborative Doctoral Awards 
WRoCAH is responsible for the distribution of Arts and Humanities Research Council (AHRC) funded studentships and the Collaborative Doctoral Awards fund projects that involve collaboration with an organisation outside of higher education. Details of any Geography-led projects will be advertised here in early February 2022 and the deadline for applications (via WRoCAH) will be announced around then.
Institute for Sustainable Food (EPSRC) Scholarships
Details of any Geography-led projects and the closing dates for applications will be advertised here in Autumn 2021 or early 2022.
EPSRC Project-led Scholarships
Details of any Geography-led projects and the closing dates for applications will be advertised here in Autumn 2021 or early 2022.
---