Social change and economic transformation
This group brings together researchers concerned with the dynamics of society and the economy in relation to social justice, including through environmental change.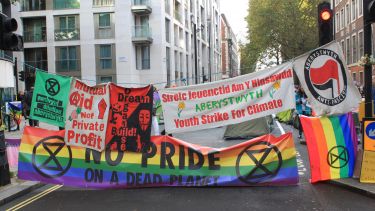 Research in the group unites around three key themes:
First, on key societal challenges and how capacity to act on them is unevenly distributed, in relation to social justice, environmental change, agriculture, housing, employment, austerity and more;
Second, through challenging and informing policy and professional practice with new ideas and evidence, on themes like biosecurity, mobility, food justice, resource use, welfare reform, and post-Brexit agricultural policy;
Third, on change in urban and rural places internationally, including on activism, citizenship, digital technologies and infrastructures.
Research themes
Power and Space
Our research applies geographical thought to understand contemporary challenges in society, economy, and environment, and how the capacity to act on these challenges is unevenly distributed.
More information

Pressing problems relating to knowledge and expertise, the state, the environment, and the dynamics of capital accumulation are addressed through a range of research projects on the theme of power and space. In order to forge progressive alternatives, reconfigure unequal power relationships, and contribute to more just futures at a range of spatial scales, current and ongoing projects explore themes including:

Alternatives to environmentally destructive housing practices, such as eco-homes. Changes to environmentally destructive consumption practices, such as flying. Resilient ways of linking producers and consumers in local and alternative food systems. Reproductive (in)justice and gendered bodily autonomy. Geographies of intimacy and care in relation to, and as opposed to, politics of occupation in Palestine. The role of scientific and practitioner knowledge and expertise in sustainable agricultural production and the adoption of sustainable farming practices. The co-design of post-Brexit agri-environmental policy. Austerity, resilience, and political subjectivities. Our research is situated within and beyond the UK, involving:

Housing and environmental activists in Australia, Argentina, Britain, Spain, Thailand, and the United States.
Third-sector, non-profit, and voluntary organisations in Britain, Hong Kong and the United States.
Farmers and farming organisations in Britain, Switzerland, France, Italy, Canada, and the United States.
Local food system actors in the UK.
Policy makers in Britain, Spain, and the United States.

 Researchers in this field include: Adam Barker, Megan Blake, Hazal Dolek, José Luis Fajardo Escoffié, Dan Hammett, Anna Hawkins, Lucy Jackson, Anna Krzywoszynska, Ruth Little, Jenny Pickerill, Luke Temple, Judith Tsouvalis, Jennifer Veenstra, Matt Watson.

Example publications in this theme

Reoccupation and Resurgence: Indigenous protest camps in Canada  by Adam Barker & Ross Russell Ross, a chapter in Protest Camps in International Context: Spaces, Infrastructures, and Media of Resistance edited by Gavin Brown, Anna Feigenbaum, Fabian Frenzel & Patrick McCurdy (Polity Press, Oxford 2017).

Developing a 'civil' society in partial democracies: Citizens, in/civility and a critical public sphere by Dan Hammett and Lucy Jackson in Political Geography 2018, 67, pp. 145-155 https://doi.org/10.1080/04353684.2018.1433961

Making knowledge and meaning in communities of practice: What role may science play? The case of sustainable soil management in England. By Anna Krzywoszynska in Soil Use Manage.; 2019, 35: 160– 168. https://doi.org/10.1111/sum.12487

Eco-homes: People, place and politics a book by Jenny Pickerill (Zed Books, London 2016).
Policy and Practice for Contemporary Challenges
Working to effect change by contributing to evidence-based policy and putting forward solutions to key social and environmental challenges of the contemporary world.
More information

Critically analysing how policy and practice might be developed to respond to challenges arising from the social, political, economic, and environmental changes shaping our world today. Our work in this area addresses themes relating to:

Tackling use and disposal of single use plastics and transitions to processes of reuse.
Welfare reform, employment outcomes, and strategies for navigating restructured welfare systems.
New approaches to policy thinking on reducing home resource consumption
The role local authorities, schools, and third sector organizations play in supporting healthy diet for deprived communities.
Biosecurity, disease management, and intensification in livestock production.
Enhancing the role of stakeholders and the general public in co-designing agricultural and environmental policy.
Mapping the obscured power structures shaping contemporary food consumption practices.
Community participation in visioning energy futures
Infection prevention and control in (human) healthcare services
Our research in this area takes place primarily within the UK, allowing for close engagement with key agencies, local authorities, and other partners, such as:

Department for Environment, Food, and Rural Affairs (Defra)
The Department for Work and Pensions
 Natural England
Food Sta ndards Agency
Worldwide Fund for Nature
Waste and Resources Programmes
FareShare UK
Public Health Doncaster, South Yorkshire
British Dental Association
Sheffield Teaching Hospitals 

Our research in this area incorporates geospatial methods such as spatial statistics, as well as methods rooted in qualitative approaches, including ethnography, time-space diaries, and archival research, interviews, and participatory approaches.

Researchers in this field include: Megan Blake, José Luis Fajardo Escoffié, Anna Hawkins, Peter Fuzesi, Ruth Little, Rorie Parsons, Judith Tsouvalis, Matt Watson, Adam Whitworth

Example publications in this theme

Engaging citizens, depoliticising society? Training citizens as agents for good governance by Dan Hammett in Geografiska Annaler Series B, Human Geography 2018, 100(2), pp.64-80 http://eprints.whiterose.ac.uk/123945/

Opening up the participation laboratory: The cocreation of publics and futures in upstream participation by Anna Krzywoszynska, Matt Watson, et al in Science, Technology, & Human Values 2018, 43.5: 785-809. https://doi.org/10.1177%2F0162243917752865

Challenges and opportunities for re-framing resource use policy with social practice theories, by Matt Watson et al published in 2020 in Global Environmental Change 62 102072 doi.org/10.1016/j.gloenvcha.2020.102072
Dynamic Places
Exploring questions of urbanisation, patterns of development, rural and agricultural change in the global North and global South. 
More information

Research in this theme addresses the dynamism of places through studying how local urban and rural landscapes are changing, and the processes associated with these transformations. Work explores issues such as:

Transformations of post-Brexit agricultural policy and landscapes
Changing relationships between people and soils in agriculture and food systems
Migration and trajectories of local change
The intersection of environmental activism and economic opportunity
Infrastructural change and urban life
Geographies of discontent
Our research in this area spans the global North and global South, including work involving:

Old-growth forests in Tasmania
Working-class urban, rural and peri-urban areas of Britain
Farms in the UK and Canada

Our research in this area draws upon qualitative methods including participatory techniques, interviews, visual anthropology and ethnography.

Researchers in this field include: José Luis Fajardo Escoffié, Rowan Jaines, Anna Krzywoszynska, Ruth Little, Hannah Mottram, Jenny Pickerill, Judith Tsouvalis, Jennifer Veenstra, Matt Watson.

Example publications in this theme

Doings with the land and sea: Decolonising geographies, Indigeneity, and enacting place-agency by Adam Barker and Jenny Pickerill in Progress in Human Geography, 2020, 44, 4: 640-662 https://doi.org/10.1177%2F0309132519839863

Whose development? Power and space in international development by Dan Hammett in Geography, 2018, 104(1), pp. 12-18

Caring for soil life in the Anthropocene: The role of attentiveness in more‐than‐human ethics by Anna Krzywoszynska in Transactions of the Institute of British Geographers, 2019, 00: 1– 15. https://doi.org/10.1111/tran.12293

Black and Green: The future of Indigenous-environmentalist relations in Australia by Jenny Pickerill in Environmental Politics, 27, 6, 1122-1145 https://doi.org/10.1080/09644016.2018.1466464
Research making an impact
The local as a site of food security resilience in the times of pandemic
The COVID-19 pandemic has already significantly impacted on the UK's food system. This project, led by Dr Anna Krzywoszynska, looks at what can be learned from this, to bolster the food systems resilience.
Eco-Communities: The Changing Temporalities of an Ecological Life
This project is led by Jenny Pickerill, but the questions have been driven by the residents of the eco-communities and it takes place in England, Wales, Scotland and Ireland.
Agri-Environmental Governance Post-Brexit
This research - led by Ruth Little - is broadly concerned with how the Government is going about achieving a 'Green Brexit' and the goals set out in the 25-year Environment Plan, the Green Growth Strategy and the new Environment Bill in the context of agriculture.
Sustaining Gender: Intimate Politics, Joyful Encounters and Endurance in Hebron
In exploring the specific geographic context of the Occupied Palestinian Territories, Hazal Dolek's project focuses on Palestinian women's spacings, more precisely, geographies of intimacy and care in relation to, and as opposed to, politics of occupation.
Plastics: Redefining Single-Use
Single-use plastic is a waste of limited natural resources. We need to tackle the plastic problem from all angles, because it is so complex. Several group members are key to a diverse project team from all faculties at the University of Sheffield, working with the Grantham Centre for Sustainable Futures staff to redefine single-use plastic, in the fields of food, healthcare and agriculture.
Geographies of Discontent: Uncanny Materiality and the Cambridgeshire Fens
This research by Rowan Jaines seeks to explore elements of the rural that have been disavowed, denied and dispossessed by contemporary human geography through a specific focus on the district of Fenland in the North of Cambridgeshire.
Staff and students
Research and Academic Staff
Peter Fuzesi
Lucy Jackson
Stephen Jones
PhD Students
H O Abu
Ella Hubbard
Anna Hawkins
Hannah Mottram
Jennifer Veenstra
Flagship institutes
The University's four flagship institutes bring together our key strengths to tackle global issues, turning interdisciplinary and translational research into real-world solutions.