Justin's fundraising story
"Anyone who loves running should, at some stage in their lives, take on a challenge like this."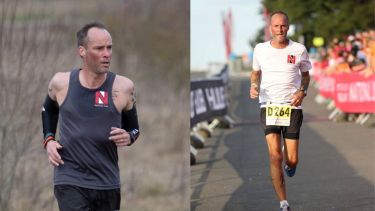 Meet Justin, a keen runner and fitness enthusiast, who is taking on the 2023 Rob Burrow Leeds Marathon this May. 
Justin isn't just preparing for the Leeds Marathon. He's also running 4 other marathons - that's an extra 105 miles - in the days leading up to it too!
Support Justin's mammoth 132 mile challenge hereJustin is approaching this incredible challenge with a calm and enthusiastic attitude:
All I have to think about is: Eat. Sleep. Run. Repeat. Plodding along, in my own head, taking in the scenery, stopping at various outlets for food and drink. With no time pressures. I can't wait!"
Having watched the Rob Burrow documentary, Justin was both humbled and inspired to support Motor Neurone Disease by taking on a challenge. Though, having completed 42 marathons in the past, running just the 26 miles on the day didn't seem enough!
So he plans to run 5 marathons in 5 days. With the Leeds race being his 'victory lap'!
He's going to view his 132 mile challenge as a series of shorter runs between refuelling stops and recommends others to take on a similar challenge. 
Honestly, it's so rewarding. Tough, very tough. But then again, if it were easy, we wouldn't do it!"
Good luck, Justin. We're behind you every step of the way!
Join an unstoppable community of donors
United in your passion for Sheffield and how it can shape the world, together you'll help bright minds thrive.