Set up your own event or challenge
Be a part of the amazing University community who have so far raised over £1 million through an ever-growing list of events, activities and challenges.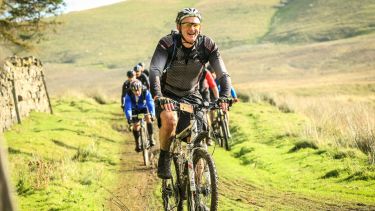 Challenge yourself
Challenges can come in many shapes and sizes. Since the Covid-19 pandemic, you have shown us so much creativity in how to carry out fundraising activities virtually. 
If you had planned to take part in any events that have been postponed, such as our Big Walk or a running race, why not take the opportunity to make it virtual? If your activity was physical, you can continue your training, for example training for the full distance, or split it over a number of days. Use this opportunity to be flexible and fit your challenge around you.
We hope to field teams for the upcoming Sheffield Half Marathon in March and Sheffield 10K in September next year. Check out our fundraising calendar for the most up to date information. If you would like to fundraise for us by running in another race, let us know and we'll tell you how we can support you.
Don't worry if running isn't your thing! We have seen challenge fundraising from cyclists, rowers, boxers and adrenaline junkies alike, so whatever your idea we want to hear from you.
Challenges need not be physical either. Crafting and baking can be a great way to use your passion to create something that you can use to raise funds, and you could take the opportunity to step outside of your comfort zone. Why not give something up if you're a chocaholic, a coffee addict, or always tempted by takeaways. Save the money you'd be spending on your vices and it'll soon add up, ready to make a difference to your cause.
---
Team challenges
Don't want to go it alone? Recruit friends or colleagues and take something on together - it's a great way support each other through a daunting challenge and share a great experience. Joint events can be as simple or complex as you like, from a dress-down day at work or raffle, to a coffee morning, bake sale or sweepstakes to draw in those sports or bake-off fans. 
Many of our fundraisers run some joint events alongside our organised events to help bump up their overall fundraising total as well, so don't be afraid to combine the two. 
---
Get in touch
Got an idea for a fundraising challenge but not sure how to make it work? Get in touch with our our Fundraising Team, who will be happy to help.
Email: giving@sheffield.ac.uk
Telephone: +44 (0) 114 222 5598