Choosing an area for your gift
A gift to the University of Sheffield in your Will is one of the most powerful ways your legacy will live on. We are here every step of the way to ensure that your wishes are fulfilled.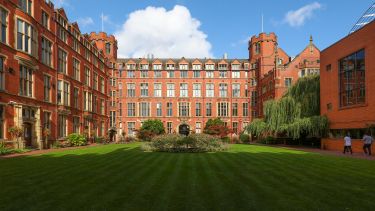 Off
What your gift can support
What are the things that matter to you? The arts, sport, scientific and medical research, commerce or engineering, student wellbeing, widening participation... whatever it is that interests or concerns you, there are causes within our University that will benefit from your planned donation.
There are two ways in which you can leave a gift to the University in your Will.
Specified legacy gifts
This is where you set up a legacy gift for a specific cause or endowment fund linked to a prize or scholarship at the University. Throughout, we will ensure that your wishes are honoured and that your gift is used to benefit the cause that matters to you.
​​​​
Unrestricted legacy gifts
If you choose to leave an unrestricted legacy gift with no conditions attached, your planned donation will be carefully allocated to the area of greatest need at the time.
We always do our utmost to take account of your own personal circumstances and relationship with the University when making this important decision. And we will, wherever possible, share the impact of your legacy with your loved ones.
---
Thank you so much for your letter regarding my husband's legacy. The project Seeing with my own eyes sounds ideal, not least because of its wider application to visually impaired students everywhere. We always included RNIB in our charity list, and as a special needs teacher I had some relevant experience myself: so you couldn't have chosen better.

Audrey Sainsbury

Widow of Professor Eric Sainsbury, who remembered the University with an unrestricted gift in his Will
---
Your wishes
If you are inspired to leave a gift to the University in your Will, please do get in touch now. By doing so, we can ensure that your legacy is directed precisely to the purpose or cause that you prefer.
Solicitors and Will writers do not pass any information about their clients' legacy pledges to the intended beneficiaries. So having the opportunity to discuss this with you - either in person or on the telephone - is the best way to help us understand your wishes and ensure that your gift remains relevant for years to come.
For a discreet, confidential discussion, please contact us. The University's Philanthropy Manager for Legacies and Individual Giving, David Meadows, would be delighted to meet you at a location of your convenience or to meet up at the University campus. We'd love to give you a tour!
Telephone: +44 (0) 114 222 1073
Email: d.meadows@sheffield.ac.uk
---
Thanking you
We are incredibly grateful that you are considering making a planned donation to support the University now and in the future. To show our appreciation for your generous foresight, you will automatically become a member of our Heritage Circle.
The Heritage Circle is our special gift club for people who have chosen to leave a legacy gift to Sheffield. Once you have let us know about your bequest, you will be welcomed into the Circle, which includes:
An invitation to the annual Heritage Circle lunch at the University of Sheffield
A Silver Arrows lapel pin
A Tour of the campus, including access to buildings not open to the public
Legacy News, our annual publication for legacy pledgers
Priority invitations to donor and alumni events, such as our annual evening at the House of Lords in London
Major donors will be recorded on our Benefactors' Board in Firth Court
Join an unstoppable community of donors
United in your passion for Sheffield and how it can shape the world, together you'll help bright minds thrive.