Information for Research Candidates
Information for Research Candidates (not already conferred in absentia) in relation to the January 2022 ceremonies.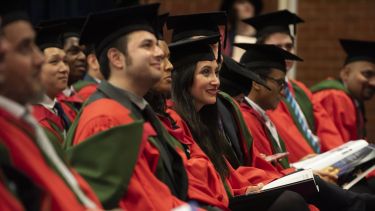 In order to be guaranteed an invitation to attend graduation in January 2022, you need to have had your degree awarded and have received formal notification from Research Services by 30 September 2021.
Candidates who have had their degree awarded by this date will be sent an email in early October, containing a link to a dedicated online registration form. Emails will be sent to your University account and the personal email address held on your record, if one exists.
If you have an award letter showing an award date prior to 30 September 2021, you have not had your degree conferred in absentia and have not received correspondence from us by the end of October, you should contact us immediately by emailing graduation@sheffield.ac.uk
---
If your degree is awarded after the 30 September cut off point
Following the closing date for receipt of ceremony registration forms (mid-November), we may be in a position to include further candidates should space permit. If this is the case, we will contact eligible candidates by email if and when space becomes available.
Otherwise, your award will be conferred in absentia in late January 2022 and you will receive notification of this by email shortly afterwards.
Please do not contact us if you have an award letter with an award date on or after 30 September 2021, as we will not be able to offer you any further guidance. If we are able to include you in a graduation ceremony in January we will contact you.
Events at the University
Browse upcoming public lectures, exhibitions, family events, concerts, shows and festivals across the University.