Information for Research Candidates
Information for Research Candidates in relation to the July 2023 ceremonies.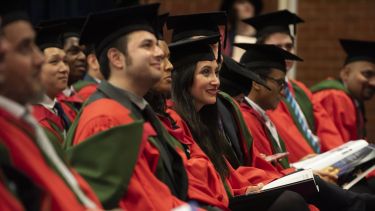 Invitations to research students were emailed on 16 March. If you completed your degree and were awarded in February or March, your invitation will be emailed to you in early April.
Please see this email for details of how to register your intention for your graduation ceremony. Please register for your graduation ceremony using the link provided in our invitation email.
The deadline to register is 31 March. Invitations sent during April will, of course, have a later deadline.  Please note, even if you do not wish to attend in person, you do still need to complete the registration form to confirm this.
---
Tickets - Information relating to tickets, including extra tickets can be found here.
Robe Hire - Information on hiring academic dress can be found here. Please note the deadline to do this is 23 June.
Graduation Terms and Conditions - By confirming your attendance at graduation, you the graduand confirm that you agree to abide by the conditions of the University of Sheffield.  Read our terms and conditions, and privacy policy.
What Happens on the Day? - More details about the day itself can be found here
Events at the University
Browse upcoming public lectures, exhibitions, family events, concerts, shows and festivals across the University.