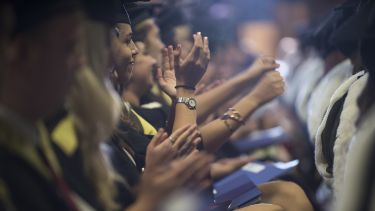 2022
Monday 18 to Friday 22 July 2022- Undergraduate ceremonies.
 
Monday 25 to Friday 29 July 2022 - Undergraduates who completed Summer 2021 or were conferred between August 2021 and January 2022. Postgraduate Taught graduates who were conferred in absentia in January 2022. Research graduates who were conferred in absentia in January 2022 or awarded before the cut off date of the end of March.
For queries relating to the rescheduled July ceremonies email us: rescheduled-graduation@sheffield.ac.uk
 
Monday 17 to Friday 21 October 2022 - Postgraduate students who were scheduled to graduate in January 2022.
2023
Monday 9 January to Friday 13 January 2023 - Postgraduate ceremonies 
Monday 17 July to Friday 21 July 2023 - Undergraduate ceremonies
We have based the above schedule on predicted attendance but, should there be less demand than expected, we may be able to bring some groups forward once registration for places opens. Of course, if you cannot attend on the dates you have been allocated, we will be happy to offer you an alternative slot once you receive your invitation.
---
Terms and conditions
Cancellation or postponement of the event
While every effort will be made to host graduation ceremonies as planned, the University may cancel, delay, or postpone its graduation ceremonies due to circumstances beyond its control or where ceremonies can no longer reasonably or safely take place.
In the event of any postponement or cancellation, the University will communicate this clearly on its website and will contact each attending student directly with as much notice as is reasonably practical.  
The University will not be liable for any costs incurred by either the graduand or guests due to postponement or cancellation of the event.  This includes, but is not limited to, travel, accommodation and subsistence costs or any loss of business or earnings.  
Therefore, the University strongly advises that graduands and their guests ensure they have sufficient insurance protection to cover any losses they may incur as a result of postponement or cancellation of ceremonies and book flexible rates for travel and accommodation wherever possible.
A world top-100 university
We're a world top-100 university renowned for the excellence, impact and distinctiveness of our research-led learning and teaching.