Although most students complete their course of study and have their degree conferred at a degree ceremony immediately following the award, some students will have their degree awarded at a time when no degree ceremonies are scheduled to take place.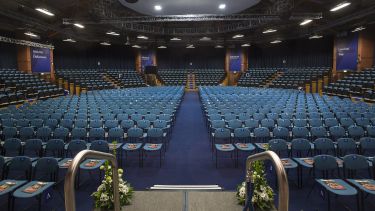 Off
The University holds in absentia ceremonies. This enables students who complete their studies outside the graduation ceremony periods to have their degree conferred. Degree certificates can be received without having to wait until the next degree ceremony.
---
Undergraduate and postgraduate taught students
Following the conferment of their award in absentia, all candidates will be contacted to confirm their award has been conferred at an in absentia ceremony. At this time candidates can tell us if they would like to receive an invitation to attend the next degree ceremony that they are eligible to attend.
Graduation ceremonies are held in July each year for undergraduate students and January each year for postgraduate taught students. We will contact all candidates conferred in absentia by email (university and personal email address held on the student record). You should check your student record to ensure your personal email address is correct. Emails will be sent from graduation@sheffield.ac.uk.
---
MBChB and BDS students
After the final board of examiners has met, in absentia conferments are held each July, prior to the summer graduation ceremonies. The University Seal is applied to the lists of students and these are forwarded to the GMC and GDC in order for them to grant provisional registration for the students to practise. These students are eligible and will already have been invited to attend the summer graduation ceremonies in the normal way.
---
Students exiting at bachelors level
Occasionally students are awarded a bachelors degree, rather than continuing on to the final year of a masters programme as expected. In this case, the degree will be conferred in absentia in early August and graduates will be able to receive their certificate and/or an invitation to the graduation ceremonies the following July.
---
Research students
Research candidates are eligible to attend graduation ceremonies in January or July each year. Candidates who successfully complete their course of study outside the cut off dates for inclusion in the next ceremonies (end of March for July ceremonies and end of September for January ceremonies) will have their award conferred in absentia. Students who have awards conferred in absentia will be contacted by email (University and personal email addresses) and will be able to receive their certificate afterwards.
At this time, you can tell us if you want an invitation to the next available ceremony. You should check your student record to ensure your personal email address is correct. Emails will be sent from graduation@sheffield.ac.uk.
---
Scheduled in absentia dates
27 January 2023 
3 April 2023
4 August 2023 
23 October 2023 
29 January 2024
2 April 2024
6 August 2024
22 October 2024
These dates are subject to change. Further dates will be scheduled in due course.
Please email graduation@sheffield.ac.uk with any queries regarding in absentia conferment of awards.
If you're unsure whether or not you can graduate in absentia, take a look at our handy flowchart to find out. 
Can I graduate in absentia? (PDF download)
---
Postage of certificates
A global reputation
Sheffield is a research university with a global reputation for excellence. We're a member of the Russell Group: one of the 24 leading UK universities for research and teaching.