Introduction to clinical academic medicine
The University of Sheffield, in partnership with NHS England South Yorkshire and Bassetlaw and local Sheffield NHS Trusts, offers an exciting pathway of training, offering experience of clinical and academic medicine while working alongside internationally-renowned clinicians and researchers.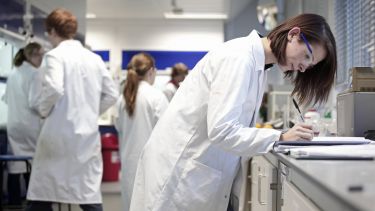 Off
Trainees are entitled to an honorary university contract for the duration of their academic training.
Clinical academic medicine involves a combination of research, teaching and patient care. Clinical academics performing medical science are in a unique position, taking observations from patients in their clinics or on the wards into the laboratory for study. This helps bridge the gap between scientific research and patient care, translating ideas that seem promising in the laboratory into treatments that benefit patients.
In a typical week a clinical academic sees patients, plans and performs research, holds meetings with fellow researchers and teaches other professionals and students. They also attend national and international meetings to view work of others and to disseminate knowledge from their own work. Clinical academics help shape the undergraduate curriculum and contribute substantially to postgraduate medical training.
The Academic Training Programme Director in Sheffield is Professor Dilly Anumba.
The Clinical Academic Programme is administered by  Programme Manager Dr Lynsey Grieveson (l.grieveson@sheffield.ac.uk) and Margaret Evans-Gili (m.e.evans-gili@sheffield.ac.uk).
Please contact us if you have any queries and we will get back to you as soon as possible.
​Trying to contact Yorkshire & The Humber Deanery? The phone number of their reception is +44 114 399 2200.
---
Medical Research Council's Clinical Research Training Fellowship Scheme
The CRTF supports clinicians, including (but not limited to) medics, surgeons, dentists, clinical psychologists, public health speciality trainees, allied health professionals, nurses, midwives and veterinarians, to undertake a PhD or other higher research degree.
How to apply for the Medical Research Council's Clinical Research Training Fellowship Scheme
---
How do I become a clinical academic?
Student Selected Components (SSC), BMedSci courses or MB-PhDs offer experience in academic medicine at an undergraduate level. During postgraduate training, academic foundation programmes include protected time in a research environment. These can lead to:
Academic clinical fellowships 

ACFs are for those who have obtained their foundation competencies. As well as providing basic speciality or core medical training these posts include nine months' protected research time. The fellow conducts research that will form the basis of a research training fellowship application to an external funding body such as the MRC or the Wellcome Trust. These can lead to research training fellowships.

Research training fellowships

These last from three to four years and lead to a PhD.

The next step is to obtain a Clinical Lecturer post to complete clinical speciality training

NIHR Trainees Coordinating Centre (NIHR TCC) (leading to the award of a CCT) and to begin postdoctoral research.

Senior Clinical Lecturer or Senior Fellowship positions combine work as an honorary consultant with research in a chosen field.

Doctors and dentists employed by universities pursue research and educate the next generation of healthcare workers. They also spend half their time in the NHS caring for patients. They are in an ideal position to work with their NHS colleagues to identify problems, devise effective solutions and bring evidence-based innovations into clinical practice.
---
Contact us
Clinical Academic Training
Faculty of Health
University of Sheffield
C18, Barber House
387 Glossop Road
Sheffield S10 2HQ
+44 114 222 8741
A global reputation
Sheffield is a research university with a global reputation for excellence. We're a member of the Russell Group: one of the 24 leading UK universities for research and teaching.