We aim to provide a stimulating interdisciplinary environment, with access to first-rate facilities. We have dedicated research facilities and laboratories for tissue culture, molecular biology, materials science, histology-microscopy and electrophysiology, all with dedicated technical support.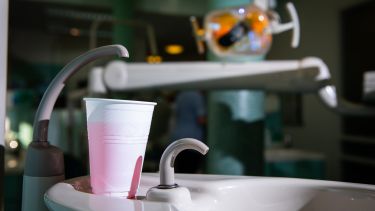 Off
We continually seek to improve our range of state-of-the-art facilities to meet the needs of our student and research community.
Virtual reality simulation
We pride ourselves on being a leader in dentistry teaching and research, and the introduction of our virtual reality simulation suite is an example of our commitment to this goal. In our simulation suite, haptic technology creates the illusion of substances (teeth, alveolar bone, instruments, handpieces, burs, implants) and force within a simulated virtual world of the mouth.
The haptic devices provide force-feedback of the virtual dental operative instruments as they come in contact with the virtual teeth and alveolar bone giving the operator a perception of manipulation of objects using the senses of touch and proprioception.
Our industrial partner in this collaborative venture is the French company HRV-Simulation with their product 'VirtEasy Dental'. This technology currently provides exercises in intra- and extra-coronal operative skills, endodontics and surgical implant placement.
The virtual reality simulation suite provides opportunities for our students to gain skills in operative dentistry, endodontics and implantology that will complement those provided in the Clinical Skills Learning Environment and the patient-clinics.
The technology provides a 'serious game' environment where our students can learn, develop and improve their operative skills in an iterative and interactive manner in a novel and fun virtual simulation environment.
Charles Clifford Dental Hospital
We have a very close working relationship with the adjacent Charles Clifford Dental Hospital, a specialist facility offering dental services to people in Sheffield and surrounding areas. This relationship enables us to translate our world-leading research into the clinical environment, working with real patients.
Dental Practice Unit
Our Dental Practice Unit houses ten dental surgeries in which senior dental students and hygiene and therapy students undertake clinical work. It was upgraded and refurbished in 2007 with a grant from the Higher Education Funding Council and an HTM01-05 compliant decontamination suite was installed in 2012.
This facility enables students to treat adult patients in an integrated manner and deliver high quality care in a well-supported clinical environment. By working with experienced dental nurses and using external laboratories students can experience the value of teamworking and learn to develop patient-centered treatment plans and deliver them in a timely fashion.
General university facilities
A global reputation
Sheffield is a research university with a global reputation for excellence. We're a member of the Russell Group: one of the 24 leading UK universities for research and teaching.