We aim to train high-quality dentists, dental hygienists and dental therapists by providing excellent student support, innovative facilities, and teaching guided by the latest research in the field.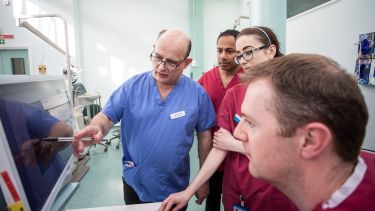 Off
BDS Dental Surgery selection process
---
2023-24 entry
Receive excellent support
We pride ourselves on offering the very best personal and professional support during your studies. We believe in you, and our staff are dedicated to providing a supportive environment in which you can develop and flourish.
You'll have a personal tutor, and will meet with them regularly for one-to-one meetings. Your personal tutor isn't just there to help with things related to your course, but also wider aspects of student life including your personal welfare.
Your personal tutor is further supported by our Director for Student Affairs, who takes overall responsibility for ensuring that you receive the best possible support.
As well as our Director of Student Affairs we also have a Student Support Lead who is there to give you additional help and advice and will support you if you have any personal or health problems.
Learn the latest research developments
It is our mission to make a large, positive impact on oral health and wellbeing worldwide by combining excellent education with world-leading research.
We're one of the top ten Russell Group universities for research output, and we provide research-led teaching, so what you study on your course is based on the latest findings.
For example, our research team developed the very first self-help guide designed to reduce the number of children with dental anxiety. The guide uses Cognitive Behavioural Therapy techniques, and 60% of children felt a lot less worried about visiting the  dentist.
We now teach these techniques to our students and continue to improve our teaching through our research.
Meet our students