If you study our BDS Dental Surgery or HE Diploma Dental Hygiene and Dental Therapy, then our Dental Outreach Training Programme gives you the opportunity to undertake two or three clinical placements towards the end of your course.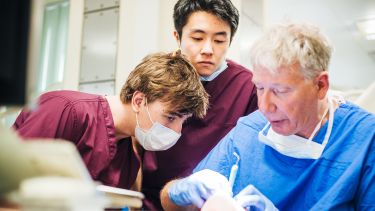 The clinical placements we're able to offer you are mostly around Sheffield, but extend through South Yorkshire and East Midlands.
The majority of placements on offer are in general dental practice, but they may also take place in community dental clinics or specialised hospital environments. You'll usually attend in a group of three to five and spend a total of about 20 weeks working as a member of a local dental team.
Our outreach programme is focused on helping you to learn about patient-centred care and the importance of primary care in providing care for patients in varied social circumstances.
The aims of the programme are to:
encourage you to appreciate the ethical responsibility of dental professionals for the oral health of the whole community
increase your understanding of the principles and particularly the practice of public health dentistry
develop your appreciation of the responsibilities and requirements of the practice environment
consolidate your awareness and develop your skills in the provision of comprehensive care for a range of patient groups.
A high-quality outreach programme
Sheffield's Outreach programme has been established for around 10 years and published evidence (Smith et al., 2006) shows that it enhances students' ability to plan care for patients and increases experience markedly (Smith et al., 2010). We have also hosted fact-finding visits from overseas universities and other UK dental schools.
Our programme is unlike many others in placing students in practices which are not formally linked with the School to maximise learning and help students transition into Dental Foundation Training. The practices are thoroughly quality assured and our latest GDC Inspection Report recognises the supportive environment for students.
For more information on the Outreach Programme contact the Outreach Training Programme Office, The School of Clinical Dentistry, Claremont Crescent, Sheffield, S10 2TA