All accommodation is situated on the Endcliffe Village site which is also home to our conference venue and breakout rooms. Endcliffe Village is two miles from Sheffield train station and one mile from the University.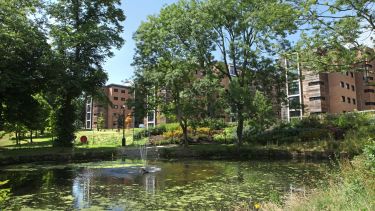 All accommodation is located within the same landscaped grounds. The grounds are serene and feature a large pond which is ideal for sitting beside to relax.
Just a short walk from the residences you'll find Sheffield Botanical Gardens, a 19-acre outdoor space with fifteen different garden areas. The Gardens feature collections of plants from all over the world, including the Mediterranean, Asia and North America.
---
Accommodation options
Three accommodation types are available for the conference:
---
Jonas Hotel
Jonas Hotel is in the heart of the Endcliffe residences, approximately 100 metres from Halifax and 200 metres from both The Edge Conference venues and The Edge accommodation. It is a space where the needs of diverse groups of people can be met.
Located between the city and the Peak District, you'll find us on the edge of the University of Sheffield's main accommodation campus. Jonas brings together students, professionals, ramblers and everything in-between, offering comfortably accommodation within a community of modern travellers.
All rooms are en-suite with single beds and there are various social spaces in which to unwind.
Bedrooms are not serviced during your stay but book for 4 nights and you'll get nights 5 and 6 for free!
Rates include a pastry and hot drink breakfast with the option to upgrade to a more substantial meal.
Jonas Hotel also offers:
Full access to social space and workspace
Free Wi-Fi
Shower
Desk
Smart door access (locks which open through your smartphone)
Wardrobe
A coffee and a pastry on us each morning
---
Halifax Hall Hotel
Halifax Hall is approximately 100 metres from Jonas and 300 metres from both The Edge Conference venues and The Edge accommodation.
Originally a Victorian steel baron's mansion and more recently a University hall of residence, Halifax Hall is one of the finest places to stay in Sheffield City Centre. The hotel boasts 38 boutique en-suite rooms plus three suites and two accessible rooms.
All rooms are non-smoking and a full English breakfast is included with your room rate.
Each guest can enjoy a 32" wall-mounted TV in the rooms. Rooms also come with a safe to keep your belongings secure, hair dryer, wardrobe, desk, notepad and pencil. Free Wi-Fi access is offered throughout and room service is available.
You will find bean to cup coffee facilities on each floor as well as a selection of teas, hot chocolate, fresh fruit and home-made cookies. Newspapers are also available.
In addition, the hotel has onsite parking, an electric vehicle charging point, outdoor seating, garden space and a bar area.
Please note Halifax Hall does not have a lift on the property. Should you have any access issues please inform our reception and we will do our best to ensure that you have a ground floor room.
---
The Edge
The Edge study accommodation is in the Stanage buildings, just 50 metres from our daytime conference facilities. Located approximately 200 metres from Jonas and 300 metres from Halifax, the accommodation features a café and breakfast room, 24-hour reception and launderette.  
A range of other local amenities including shops and restaurants are within walking distance. 
All single en-suite bedrooms are grouped in self-contained apartments with spacious living areas.  Individual nights are available in well proportioned en-suite study rooms with big desks. Bedrooms are serviced during your stay and a full breakfast is included in the room rate.
Located just a twenty minute bus ride or ten-minute drive from the city centre, The Edge is ideal Sheffield accommodation for exploring the beautiful city. 
A world top-100 university
We're a world top-100 university renowned for the excellence, impact and distinctiveness of our research-led learning and teaching.