Sheffield is a city that can be easily reached via various forms of transport.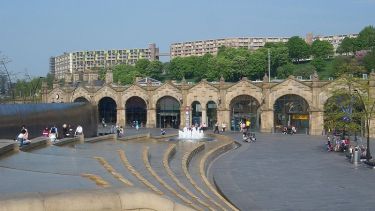 On
Located in South Yorkshire, Sheffield is easily accessed by road from other major UK cities. If you're travelling to the conference venue by road, use the postcode for the main University building on Western Bank, Firth Court: S10 2TN.
If you are staying in conference accommodation, arrive by car to the venue you are booked into:
- Jonas, The Endcliffe Village, Sheffield S10 3ER;
- Halifax Hall, Endcliffe Vale Rd, Sheffield S10 3ER;
- Wilson Carlile Centre, 50 Cavendish St, Sheffield S3 7RZ (entrance to the car park, is, via SatNav 100 metres from here at the location 93 Victoria St, Broomhall, Sheffield S3 7QL).
If you are staying in Jonas or Halifax Hall you can obtain a parking permit from reception on check in (please note parking is limited).
If you are staying in Wilson Carlile there is free parking on site.

Day participants and Wilson Carlile residents for Monday 13th, Tuesday 14th, Wednesday 15th and Friday 17th there is free street parking opposite 61 Endcliffe Vale Rd, S10 3ET (200 metres from The Edge).  There may be parking on the conference site but these spaces are limited and you are not guarateed to find a space, please ask for a permit on arrival at The Edge reception.  There may also be spaces in Endcliffe Village car park (in front of The Edge building reception), please email us on iache2022@sheffield.ac.uk or ask on the day for a permit.

If you are a day participant or Wilson Carlile resident on the Thursday 16th, arrive to the Q Park on Durham Road, S10 2JA (or for cheaper car parking, use the Parkopedia app [ https://en.parkopedia.co.uk/parking/school/the-university-of-sheffield/?arriving=202203100600&leaving=202203100800 ] to view car parks and street parking).
Parking on site and in the surrounding area is limited so please consider a car share or walking where possible. 
---
Not only is London St Pancras International the final destination for the Eurostar/TGV/Thalys/ICE/AVE network: it is also the mainline station for trains to Sheffield.
Journey times are surprisingly swift:
Brussels to Sheffield, 5 hours 30 minutes
Frankfurt to Sheffield, 9 hours 20 minutes
Amsterdam to Sheffield, 7 hours 30 minutes
Purchasing rail tickets online in advance can make this a very cheap way to travel. If you plan to travel for more than two days then an Interrail ticket (eg three days in one month) or a Eurail pass may well be an affordable way of attending the conference and exploring more of the UK. See here for more advice.
On arriving at Sheffield station, the conference venue is a bus ride of 20 minutes (you walk for 300 metres to the 120 bus from Flat Street FS1 to Fulwood Road / Endcliffe Crescent pay cash or card £2.50, and then walk downhill for 300 metres to Endcliffe Student Village) or 15 minutes by taxi (to Endcliffe Student Village £8).
Sheffield also has direct links to other major cities, including: Birmingham, Bristol, Edinburgh, Glasgow, Hull, Leeds, Liverpool, Manchester, Newcastle and York.
Booking rail travel in Britain. 
May and June 2022 are a good time to purchase advance rail tickets which are fixed and discounted: advance tickets are typically cheaper, but less flexible than the turn-up and go fares. Turn up and go fares can be economical if they are 'off-peak'. Be careful of buying 'anytime' tickets, which are the most expensive of all, except on some short journeys.

Many train tickets can be purchased as e-tickets or mobile tickets with a digital code that you show on a smart-phone or printed on a pdf, which you show on the train and ticket gates in the station.

The cheapest deals may sell out, but usually further deals are available at a higher price. Two good websites for finding the right tickets are LNER (no fees included) and The Trainline (a small fee is included) seat61 provides extensive advice on ticket buying.
It is important to remember advance tickets may not be non-refundable or are changeable for an extra fee.
There are two extra special advance tickets:
- a) the Airport Advance from Manchester Airport to Sheffield if booked at least 60 minutes after landing it can be used for up to 3 more hours, if the flight is delayed—NB ticket currently unavailable for travel on Sunday June 12;
- b) if you are arriving / leaving on Eurostar, then your onward travel to Sheffield can be on a special CIV ticket (booked through a rail agent or the Eurostar helpline) which means you can travel at any point for the same price.
---
Ferries from mainland Europe to the north of England arrive at Hull from Europort (Rotterdam) and to Newcastle from Ijmuiden (Amsterdam). Direct trains run from Hull and Newcastle to Sheffield. 
Rail Sail ferry tickets are available from Ireland. There are also many Channel sailing options (with trains serving almost every sea-port), plus sailings from northern Spain.
Ferries also arrive to a variety of other English, Scottish and Welsh ports, from France, Ireland, the Netherlands, and Spain.
---
Manchester International Airport (MIA) is less than 50 kilometres from Sheffield and has a direct 80-minute rail-link to the city. Advance discount train tickets from Manchester International Airport to Sheffield are valid even if your flight is delayed as long as you get your ticket re-authorised at the station ticket office.
The closest airport of all is Doncaster Sheffield Airport–DSA (one hour by bus).
Other regional airports have good rail links that will deliver you to Sheffield in around two hours. These include:
Birmingham (BHX)
East Midlands (EMA)
Luton (LTN)
Leeds Bradford (LBA)
Of the four main London airports,
- London Luton (LTN) is on the rail line between London and Sheffield and the train journey is less than 3 hours (with one or two changes).
- London Heathrow (LHR), take the Underground direct to Kings Cross ( 1 hour 5 minutes), and then take the train from St Pancras International to Sheffield (2 hours 15 minutes).
- London Gatwick (LGW), take the train from Gatwick to St Pancras International (50 minutes) and then take the train from St Pancras International to Sheffield (2 hours 15 minutes).
- London Stansted (STN) you can travel by train either a) by avoiding London via Peterborough (3 hours 30 minutes), or b) train from Stansted Airport to Tottenham Hale (35 mins), and then Underground Tottenham Hale to St Pancras International (25 mins) and then train from St Pancras International to Sheffield (2 hours 15 mins).
A world top-100 university
We're a world top-100 university renowned for the excellence, impact and distinctiveness of our research-led learning and teaching.