Sheffield is a city that can be easily reached via various forms of transport.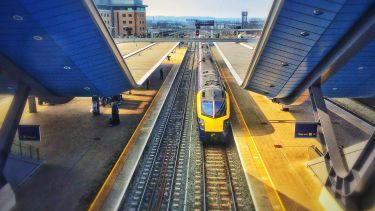 Located in South Yorkshire, Sheffield is easily accessed by road from other major UK cities. If you're travelling to the conference by road, use the postcode for the main University building on Western Bank, Firth Court: S10 2TN.
There are two conveniently located car parks where spaces can be pre-booked:
---
Not only is London St Pancras International the final destination for the Eurostar/TGV/Thalys/ICE/AVE network: it is also the mainline station for trains to Sheffield.
Journey times are surprisingly swift:
Brussels to Sheffield, 5 hours 30 minutes
Frankfurt to Sheffield, 9 hours 20 minutes
Amsterdam to Sheffield, 7 hours 30 minutes
Purchasing rail tickets online in advance can make this a very cheap way to travel. If you plan to travel for more than two days then an Interrail ticket (eg three days in one month) or a Eurail pass may well be an affordable way of attending the conference and exploring more of the UK. See here for more advice.
---
Ferries from Zeebrugge and Rotterdam/Europort sail to Hull. From there, it is 90 minutes by rail to Sheffield.
Rail Sail ferry tickets are available from Ireland. There are also many Channel sailing options (with trains serving almost every sea-port), plus sailings from northern Spain.
---
Manchester International Airport (MIA) is less than 50 kilometres from Sheffield and has a direct 80-minute rail-link to the city. Advance discount train tickets from Manchester International Airport to Sheffield are valid even if your flight is delayed as long as you get your ticket re-authorised at the station ticket office.
The closest airport of all is Doncaster Sheffield Airport–DSA (one hour by bus).
Other regional airports have good rail links that will deliver you to Sheffield in around two hours. These include:
Birmingham (BHX)
East Midlands (EMA)
Luton (LTN)
Leeds Bradford (LBA)
From London Gatwick (LGW), Heathrow (LHR) and Stansted (STN), the rail connections can bring you to Sheffield in under four hours.
A world top-100 university
We're a world top-100 university renowned for the excellence, impact and distinctiveness of our research-led learning and teaching.