Sheffield Metascience Network (MetaNet)
Researchers from diverse disciplinary backgrounds are investigating how research is funded, practiced and evaluated. Through this work, their intention is to improve research systems and culture.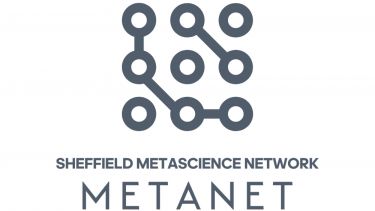 Sheffield Metascience Network (MetaNet) is a new initiative, which aims to facilitate networking, exchange and collaboration between University of Sheffield researchers and professional staff involved in, or supportive of, metascience and research on research. 
This includes analysing and enabling better research practices, fairer and more diverse research cultures, and smarter funding and evaluation of research. This sphere of research is synonymously termed meta-science, meta-research, science of science, or research on research. 
The Quantified Scholar - talk by Juan Pablo Pardo-Guerra

Culture shift: a new Research on Research Institute (RoRI) seminar series

Around the world, the good, the bad and the ugly in research cultures are the focus of unprecedented scrutiny and debate. Imperatives of equality, diversity, inclusion, impact, integrity and sustainability are forcing overdue change to institutions, policies and practices. But there is still a long way to go.

Through this new RoRI seminar series, we aim to spotlight some of the most exciting thinkers, practitioners and research system entrepreneurs who are at the forefront of analysing, pioneering and propelling culture shifts across science and research.

We kick off the series on 16 June from 16:00-17:30 BST with Juan Pablo Pardo-Guerra, associate professor of sociology at the University of California, San Diego and author of a brilliant new book The Quantified Scholar, which explores how processes of research evaluation themselves shape disciplines, promote conformity and limit diversity.

We will also hear responses to Dr Pardo-Guerra from Prof. Sarah de Rijcke, Co-Chair of RoRI and Scientific Director at the Centre for Science and Technology Studies (CWTS), Leiden University and Dr Molly Morgan Jones, Director of Policy at The British Academy—followed by a discussion.

This seminar is organised by RoRI and Sheffield Metascience Network (MetaNet) at the University of Sheffield. RoRI seminars take place on the third Thursday of each month and the full programme is on the RoRI website.

MetaNet Roundtable: A discussion of meta-research at the University of Sheffield

This is an in-person event. Please get in touch if you would like to bring a current or possible research project to the table, or have a topic you'd like to discuss. 

14th July, 4.15-5.30. The Diamond, Meeting Room One
 Past events
Tracey Weissgerber: Training early career researchers to use meta-research to improve science.

Tracey Weissgerber will be presenting her paper: "Training early career researchers to use meta-research to improve science: A participant-guided "learn by doing" approach"

'Meta-research, or the science of science, is a powerful technique that scientists can use to improve science, however most scientists are unaware that meta-research exists and courses are rare. This initiative demonstrates the feasibility of a participant-guided "learn by doing" approach, in which a multidisciplinary, global team of early career researchers learned meta-research skills by working together to design, conduct and publish a meta-research study.' https://www.eventbrite.co.uk/e/metanet-discussion-tracey-weissgerber-tickets-323231503127

Mon, 9 May 2022

15:00 – 16:00 BST

Launch workshop for Sheffield MetaNet

The full agenda is here 

Slides from the event can be accessed here (ORDA)

On 3 March 2021, colleagues from across the University of Sheffield met for the virtual launch of Sheffield Metascience Network (MetaNet). Participants spanned sixteen departments and all five of the University's faculties—from Architecture to Advanced Manufacturing, Biosciences to Music, Psychology to Sociological Studies—together with colleagues from the Library and Research Services. 

The meeting was structured in two parts. We opened with an update and discussion of the Research on Research Institute (RoRI), in which Sheffield is a founding partner. The longer second half explored a rich mix of research on research projects from across the University. 

We began with an upbeat and thoughtful introduction from Sue Hartley, Vice-President for Research. Professor Hartley reflected on the University's vision and the importance of metascience particularly in areas such as the improvement of research culture and facilitating open research. 

We then heard from James Wilsdon about the progress and prospects for RoRI. Over the last two years RoRI has built a collaborative consortium of research funders comprising 17 strategic partners over 12 countries, with a core team taken from the four founding partners: Universities of Sheffield and Leiden, Digital Science and the Wellcome Trust. RoRI is now engaged in five co-produced pilot projects exploring questions that seek to produce transformatory research that will manifest improvements in research culture and governance. 

To round off the first half of the programme we dived into the emerging findings of two RoRI projects. Helen Buckley Woods and Simon Porter presented on 'The Landscape of Research on Research' a project that combined expert knowledge, documentary analysis and scientometrics to map research on research through its publications. 

Stephen Pinfield shared an update on the 'Transforming Excellence' project, a study which explores how the concept of excellence is variously defined, used and operationalised within eight research funding organisations. 

After a short break we moved to hear eight bitesize presentations from colleagues across Sheffield, beginning with our University Research Practice Lead, Tom Stafford. In his talk, 'Revolutions in Reproducibility' Dr Stafford made the distinction between a research integrity model, often synonymous with minimal standards to the desire for a working research improvement model which aims for increasing levels of quality, robustness and ethical practices for a larger cohort of researchers. This is in line with the UK Reproducibility Network which has a remit to investigate factors that contribute to robust research. He concluded that there is a clear need to evaluate and disseminate what is best practice in research improvement. 

The UKRN also supports a PhD Studentship. The current holder of this award is Zuzanna Zagrodzka whose work concerns key challenges to humankind addressed by climate change and evolutionary science. Focussing on the research policy landscape, Ms Zagrodzka advocated for a change in the way knowledge is mediated between scientists, governments and society and the need for greater reproducibility and transparency of research in order to address significant threats to humanity. 

Next, Pamela Abbot and Andrew Cox gave a different mode of presentation, where they introduced a series of reflection points on the specific challenges encountered in a recent collaborative research workshop with research partners in Rwanda. This experience highlighted the challenges of conducting research on research in a low resource setting. 

Rosie Higman, the University Library's Research Data Manager shared a recent initiative 'Open Research Conversations'. These are one hour workshops, with speakers and discussions on a series of open science topics to encourage debate and facilitate discussions. They also provide researchers with increased access to the library staff's expertise in open science, such as open access and open data services. The next conversation in April is on electronic lab notebooks, with May seeing a discussion on sharing qualitative data ethically. 

We then moved to ScHaRR (School of Health and Related Research) from where Lesley Uttley presented on her ongoing MRC Fellowship research to produce a living systematic review investigating the challenges to the validity and reliability of systematic reviews and meta-analyses including conflicts of interest and adherence to methodological guidelines. 

Also addressing researcher judgements, this time within peer review, Alessandro Checco presented on the use of artificial intelligence and machine learning to assist in the conduct of peer review and understanding of the peer review process. From our foray into computer science, the final two presentations moved first to research culture, and then to a historical perspective of research. 

On research culture, Alison Twelvetrees described a grass roots project, where a group of new PIs came together to share their experiences and support each other in their new roles. This led to a desire to find out more about how other researchers had transitioned to independence in academia which was explored in a UK wide survey in 2018. 

The afternoon concluded with a presentation from Heather Ellis, who shared her recent work exploring the history of research integrity. It was very useful to consider the current interest in research culture and how research is produced in the light of previous definitions of research integrity and ways of understanding good research practice. For example, Dr Ellis presented evidence from the late 18th century to indicate how integrity was seen as an embodied quality of an individual researcher, rather than something demonstrated in their practice.  

Between the talks, there was a lively Q&A and group discussion on research integrity, transparency, reliability and credibility of research. This included reflections on the difficulties of defining 'excellence' in research, and how principles of research integrity play out in practice across different disciplines and fields. 

Participants said afterwards that they found the event 'thought provoking' and 'enjoyable', so not bad for an online workshop one year into lockdown! It's a great foundation on which to build and we look forward to more opportunities to collaborate and share ideas through MetaNet in the months ahead
Flagship institutes
The University's four flagship institutes bring together our key strengths to tackle global issues, turning interdisciplinary and translational research into real-world solutions.