Impact and Strategic Partnerships
The Institute of Work Psychology (IWP) regularly engages with a variety of key stakeholders, including policy makers, government agencies, organisations, professional bodies at local and national levels in the UK, in other European countries.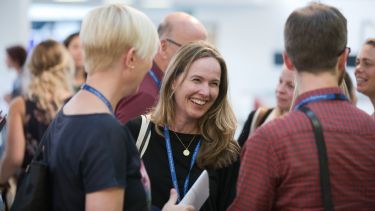 On
We bring together a multi-disciplinary team, which applies the latest research findings, methods and tools to provide solutions directly related to your needs. Through the IWP you can access the combined expertise of Organisational and Occupational Psychologists, Employment Relations, Organisational Behaviour, Human Resource Development, Socio-technical Systems specialists and Statisticians.
Our aim is to help you improve organisational practice so as to boost organisational effectiveness and the well-being of those involved. We do this by disseminating the outcome of scientific research through practical application.
Some examples of recent impact cases
We have conducted research, acted as consultants for and worked with a wide variety of local, national and international bodies, including:
NHS England
NHS Employers
Wellcome Trust
Sheffield Teaching Hospitals
Royal College of GPs
IOSH (Institution for Occupational Safety and Health)
European Foundation for the Improvement of Living and Work Conditions
South Yorkshire Police
DWP (Department for Work and Pensions)
South Yorkshire Training Partnership for Social Workers
BPS (British Psychological Society)
EAWOP (European Association for Work and Organizational Psychology)
Alliance for Organizational Psychology
EAOHP (European Academy for Occupational Health Psychology)
Yorkshire & Humber TUC
Yorkshire & Humber CIPD
Sheffield City Council
Novozymes
South Yorkshire Housing Association
NHS Merseyside
West Midlands Police
Sheffield Occupational Health Advisory Service (SOHAS)
Microsystems Coaching Academy (Sheffield Teaching Hospitals)
Flow Coaching Academy (Sheffield Teaching Hospitals)
RAND Europe
If you are interested in exploring potential research, consultancy, media or other engagement opportunities then please contact:
Karina Nielsen, Professor of Work Psychology and Director of IWP
Tel: (+44) 0114 222 0983
Email: k.m.nielsen@sheffield.ac.uk