Our Research is organised around the four themes in our research strategy (Work and Well-Being; Organising and Organisation; Leadership and Teamworking; and Creativity, Innovation and Effectiveness), reflecting our traditional areas of expertise and highlighting newer areas of interest.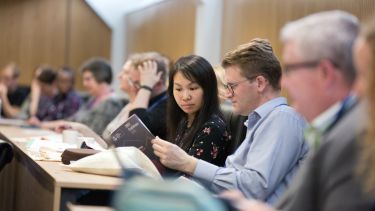 Work and Wellbeing
Research within IWP focuses on identifying work (and non-work) characteristics and processes that either detract from or enhance job related wellbeing, as well as the impact of interventions to improve employee wellbeing. In IWP, we define wellbeing broadly. In the broadest sense it concerns a context-free state in terms of life in general rather than restricted to a particular setting. Wellbeing can thus be construed as life satisfaction, global happiness etc. A slighly more narrow view on wellbeing relates to life-segments, e.g. financial wellbeing or health. Wellbeing can also be viewed as domain-specific, e.g. "job-related" wellbeing such as job satisfaction, work engagmeent or job strain.
Predictors of wellbeing
Several streams of IWP research focus on the predictors of employee wellbeing. This extends from work characteristics that are related to employee wellbeing (e.g., autonomy, leadership, virtual/tele work) through to behaviours (such as bullying and incivility) that can affect wellbeing. For instance, one stream of work is examining the impact of witnessing bullying on psychological wellbeing. In addition, this research examines potential moderators of this relationship as possible clues to future workplace intervention.
Features that extend beyond work and affect the relationship between work and non-work (e.g., childcare/eldercare, and the use of modern communications technologies) are also considered in some research within IWP. For instance, the boundary between home and work can become blurred and it can be difficult to 'switch off' and recover from work with ready access to work emails etc.
Outcomes of wellbeing
Reflecting IWP's focus on employee wellbeing and effectiveness, our research also investigates the link between employee wellbeing and work performance. Their relationship is not as straightforward as the happy worker-productive worker thesis suggests and our research approach is to understand under what circumstances is the association between wellbeing and performance stronger or weaker and how we might best facilitate their joint optimisation. Using both quantitative and qualitative methods enables us to identify dynamic variations in wellbeing and performance we aim to develop more detailed and specific models of wellbeing and work performance.
Wellbeing for those outside of work
Whilst much of IWP's wellbeing research occurs within organisations, other streams of research focus on particular populations such as the unemployed, younger and older workers and also the self-employed and those involved in social ventures. For instance, the research on social venturing examines the extent to which involvement in such work enhances psychological wellbeing (e.g., reduced social isolation, reduced age-based discrimination).
Sustainable return to work for workers with common mental health problems is another key area of interest in IWP. While much attention has been paid to supporting individual workers returning to work, less attention has been paid to how organisations and societal players, e.g. general practitioners, can prevent relapse, i.e. that workers who return to work remain and thrive at work despite any reduced work functioning.
Improving wellbeing
A key area of IWP's research on work and wellbeing concerns participatory organisational interventions that aim to improve employee health and wellbeing through changing the way work is organised, designed and managed. Key to participatory interventions is the effective collaboration between management and employees. Such collaboration raises important questions as to the processes and contextual factors that may ensure successful collaboration. For example, if management and employees do not share an understanding of what needs to change as a result of the intervention, the intervention may not achieve its intended outcomes.
Another key question pertains to how such interventions can be integrated into the business side of the organisation, i.e. how such interventions can be integrated in to performance management systems so health and wellbeing is not seen as something separate to sustainable business but rather that employee wellbeing and organisational performance and innovation is seen as two sides of the same coin. Such considerations also include integrating wellbeing perspectives into times of restructuring. When organisations restructure to obtain organisational effectiveness, how can they integrate processes into the overall change process that promote employee health and wellbeing and manage uncertainties associated with change?
One project is focused on an intervention within the national health service which enables staff to discuss social and emotional issues that arise when caring for patients, with the intention of enabling caregivers to make better personal connections with patients and colleagues. Another intervention being examined in the NHS is Mindfulness, to determine the extent to which this intervention can enhance resilience and emotion regulation amongst staff after the training has finished.
---
Leadership and Teamworking
Our approach to studying leadership builds on emerging academic and practitioner thinking by removing the spotlight from the leaders, and instead focusing on the processes and conditions conducive to effective leadership and followership. We endeavour to explore and understand the complex dynamics that shape the outcomes of leadership efforts at the dyadic, team and organisational levels, and in the process develop a set of tools and resources to aid individuals and organisations in realising positive synergies among people and between people and processes.
Welfare and wellbeing
In line with our IWP ethos, our leadership-related research projects place great value on promoting the welfare and wellbeing of employees, treating leadership not only as a factor in productivity and innovation, but as a facilitator for personal development and thriving. Our projects have explored the link between leadership and constructs such as work-family balance, wellbeing, burnout, emotional exhaustion and thriving, taking into account various contingency and boundary factors. We further endeavour to capture the dynamics of leadership processes by looking at individual, relational and team-based factors in shaping the nature and outcomes of positive leadership efforts.
Leadership training and development
Another area of IWP's research on leadership concerns leadership training and development, and its antecedents and outcomes. We focus on how sustainable leadership behaviours can be trained to ensure employee health and wellbeing. A particular focus is on the contextual factors that may influence the extent to which leaders change behaviours as a result of training. For example, perceptual differences, such as the extent to which leaders and employees agree or disagree in their perceptions of the working climate and their leaders' behaviours prior to training, are likely to influence leaders' willingness to change as a result of training. We complement our intervention-based projects with research that explores leader development through an identity perspective, thus adding to the understanding of longer term processes that contribute to the emergence and advancement of leaders in teams and organisations.
Teamworking
Our research on teams extends beyond the role and effects of leadership to include team development and investigate factors influencing team dynamics and outcomes at the individual team-member and the collective levels. One stream of work aims to provide students with a repertoire of verbal behaviours that they can use in teamworking situations. This is done by giving students feedback on how often they use specific verbal behaviours during teamworking situations, along with advice on how they can adopt new behaviours in the future. A short-cycle approach to providing feedback is adopted, involving the systematic collection of real-time data from the observation of dyadic or group interactions, and the use of that data as a feedback mechanism to guide the future behaviour of those observed.
---
Creativity, Innovation and Effectiveness
With increasing demands and less resources, organisations across all sectors are facing the challenge of enhancing their creativity, innovation and effectiveness in order to meet their goals. Creativity is defined as the generation of novel and potentially useful ideas while innovation is considered to also include the implementation of those ideas to create new products, services or processes. The extant literature is often fragmented in focusing only on certain parts of the innovation process therefore IWP research is involved in mapping and integrating the complex psychological underpinnings across all the various stages of the innovation process. The subsequent evidence base is being used to create strategies for improving individual, group and organisational capabilities in the area. One particular stream of work is the development and test of a measure of General Practice productivity.
With regard to creativivity and innovation, we are focusing in particular on four key topics:
Innovation Training through CLEAR IDEAS interventions
Despite research indicating that a fifth of UK organisations engage in some form of creativity or innovation training there is relatively little research evaluating the effectiveness of those activities in the workplace. IWP research on this topic has led to the development of an innovation development model called CLEAR IDEAS which is based on research evidence into the knowledge and skills required to both generate and implement new ideas. We have developed two types of interventions based on this model in order to generate impact: training workshops and software apps. We will evaluate the impact of these different interventions in the workplace and identify individual, social and environmental moderators of their impact; this clearly links with Section 6.4 on testing interventions in organisations.
Intra- and Inter-organisational Collaboration
Innovation is rarely conducted by the individual in isolation hence there is a need to understand the barriers to, and facilitators of, collaboration during the different stages of the innovation process. One explicit context we will continue to investigate is the water sector, where we are examining cross-boundary collaborations between water utilities, supply-chain organisations, users and policy-makers. Another area we would like to explore is the use of technology in promoting collaborative innovation in virtual teams.
Leadership
The importance of leadership has been alluded to elsewhere in this document but in this theme we are particularly looking at identifying the mechanisms by which leader behaviours and relationships with followers can influence creativity and innovation in the workplace. Classical theories of leadership are being shown to be inadequate in dealing with the complexities of managing the extended innovation process. One particularly interesting area for investigation is ambidextrous leadership, which proposes that alternate leadership styles are needed for different innovation stages and we intend to investigate this further.
Affect
A growing area for research is looking at how affect through moods and emotions can influence creativity and vice versa. The valence of affect in terms of its positivity or negativity and its duration and intensity has shown inconsistent findings in the literature in relation to creativity and are therefore ripe areas for theoretical development. We are using intensive research methods such as diary studies to take a finer look at the dynamic interplay between feelings, cognitions and behaviours and therefore develop more nuanced theories of individual innovation.
---
Organising and Organisations
Organisations and workers do not operate in a vacuum, but are rather embedded in a web of social, political, economic and cultural relations. While the focus on the individual level, historically rooted and widespread in Work Psychology, has allowed the field to offer a unique and distinctive contribution, the contextualisation of individual actions and thoughts in the wider contexts offers radically different and innovative lenses to understand human behaviour in organisations.
More precisely, this area of research is characterised by simultaneous attention to
a) the wider contexts in which organisations and human beings operate
b) intra and inter organisational processes
c) power dynamics and asymmetries.
Research in this area adopts Organisation Studies and Critical Management lenses, characterised by an interdisciplinary focus on ideas and theory from fields such as anthropology, sociology and political economy.
This work sees processes of organising and organisations as inherently political, and arenas where wider macro social and institutional structures of power are created, maintained and disrupted through micro-level practices. We take a critical stance, exploring and making visible these processes but also questioning their predetermined and taken for granted nature which conceals the plurality of interests and asymmetries amongst them. This is so to engage with those voices and perspectives usually silenced in management and organisation orthodoxy and make alternatives possible. This criticality is also reflected in our research practices, employing innovative qualitative methodologies such as ethnographic, discursive, visual, participatory and coproduction approaches.
(Re)production of structures of power
Our research examines how different structures of power (economic, cultural, social) are produced, contested, negotiated through micro-organisational practices across different contexts. For example, this stream of research examines how mainstream management shapes and constrains work in international development or how financial cuts influence job quality and quality of care in a nursing home. Other work examines how pressures for equal opportunities influence how managers respond to requests for part-time working in organisations whose practices rely on the presence of full-time workers. This includes how individuals, such as part-time professional women, resist threats to their identities produced through discourses which position them as less committed and less professional. Other work examines how pressures for equal opportunities influence how managers respond to requests for part-time working in organisations whose practices rely on the presence of full-time workers. Ongoing research examines how professionals and service users in health and social care contexts reproduce, contest and disrupt established institutional norms and hierarchies. Our work also explores how individuals and communities create hybrid organisations that combine elements from the commercial and social fields, thus shaping new institutional norms and organisational forms, while also facing numerous legitimacy challenges.
Flagship institutes
The University's four flagship institutes bring together our key strengths to tackle global issues, turning interdisciplinary and translational research into real-world solutions.