Members of IWP welcome applications from students interested in studying for a PhD or MSc.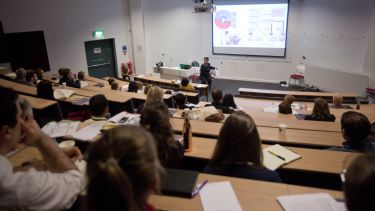 Benefit from IWP's first class teaching and world-leading academic staff by studying with us on one of our masters programmes or for a PhD.
IWP's Masters programmes:
Our MSc programmes are designed to provide both the practical skills and academic understanding that will help you to move forward with your career. Our longest standing programme (Occupational Psychology MSc) has been running for more than 40 years and we have a thriving alumni network and contacts within relevant industries.
For students without a BPS accredited undergraduate degree:
PhD Study (research degrees):
IWP has a long history of developing PhD students who go on to have very successful careers in both academia and practice. We are interested in receiving new applications that link directly to our research areas.
Prospective students are strongly advised to read information relating to our research themes and to look at the individual web pages of IWP members to ensure proposals match our research expertise.

Research degrees are offered to graduates in Psychology and Management and from graduates whose initial training has been in other relevant disciplines.
Management School Research Degree
Student testimonials
We've collected testimonials from some of IWP's alumni - below is a sample, click here to read all of them.
Masters

Clarence Seow

Having worked in the occupational psychology field for more than 5 years, I was attracted by how the wide range of modules offered by IWP, such as "Selection and Psychological Testing in Organisations" and "Leadership, Engagement and Motivation", mapped to the nature of my work. Additionally, the course is reputable, accredited by the BPS, and facilitated my achievement of BPS qualifications in psychometric testing, all of which were relevant to my present and future work.

The first few months were eye-opening because the course centred on applications in real-world contexts - examples and case studies were drawn from current news and everyday life, and practitioners were invited to share during some seminars, which contributed to a deeper appreciation of the theories learned in class. The course also provided many great opportunities for learning and networking - I was able to further sharpen my analytical and presentation skills through various assignments, and I was also fortunate enough to collaborate with a reputable business psychology consultancy firm to conduct pioneering research on ageism and leadership.

Overall, if anyone is looking for a credible MSc located in a super friendly university with supportive staff, I would strongly recommend IWP's MSc course!

Diane Crawford, Senior Consultant Amberjack

I really enjoyed my time in the MSc Occupational Psychology course at the IWP. Each area of the course offered something different and exciting, leading to a broad range of learning in such a short space of time. I really enjoyed the interactive elements of the course, where you take part in workshops and group projects. It was during these sessions that you were able to.

The course also gave me the opportunity to meet and collaborate with some amazing people from across the world and learning from the inspirational lecturers in the field helped to bridge the gap between the theory and practice. It is through this that I have been able to transfer so many of these useful learnings into my current role.

After leaving the course, I joined the Assessment Team at Amberjack, where I design early talent recruitment processes for some of the top graduate employers out there. I am now a Senior Assessment Consultant, a role that I absolutely love, but wouldn't have been possible without the skills I gained during the MSc from the IWP.

Ellie Mullins, Consultant at SHL

I am so pleased I chose Sheffield University Management School as the place to study for my Occupational Psychology MSc. I met some amazing people and the modules covered really helped set me up for success in my role as a Consultant at SHL. Learning from true experts in the field, and being able to hear from guest lecturers currently practicing in our field was truly inspiring and helped me decide what type of role I wanted to pursue after graduating.

One of the best and most rewarding experiences during my time at Sheffield was completing my final research project for a prestigious business psychology consultancy, Pearn Kandola. I would really recommend future students apply for the opportunity.

PhD

Hector Madrid, PhD (graduated 2015)

Sheffield is a fantastic place to study, work and live. It is very student friendly city, and my positivity about it extends beyond the University – the city offers a wonderful all-round quality of life. In my time here, I have connected with people in education and outside – Sheffield is magic. It has good people, a beautiful environment and, to top it all, an excellent University.

Being a PhD student at Sheffield University Management School is very challenging. You are learning a lot, and you must make the most of working with important people in your field such as world leaders in your field. The Management School has world-leading academics on my subject, such as Professor Peter Warr in the Institute of Work Psychology (IWP).

The IWP is a great group of people within the Management School. They have a strong global reputation and a strong sense of community – it is a world-class institute.

Caroline Knight (graduated 2017)

I received my PhD in December 2016 following a very developmental and rewarding three years in IWP. My love of academia came after I studied for a Masters degree in Research Methods in Psychology in 2011 (University of Hertfordshire).

I was delighted to gain ESRC funding to study for a PhD in IWP, renowned for its high quality teaching and research, and found the department to be very warm, friendly and supportive. PhD study is not without its challenges, but my PhD supervisors were wonderfully supportive and developmental. I also thoroughly enjoyed all the academic (and social!) conversations I had with other IWP members, both staff and PhD colleagues. I really feel that I developed my knowledge and skills enormously, with plenty of opportunities for taking part in numerous activities, such as training, teaching, conferences, other research activities besides my PhD, and internships.

Tom Calvard (graduated 2010)

Before my PhD I completed an MSc at the Institute of Work Psychology (IWP) and a BSc in Psychology at the University of Liverpool. I found doing a PhD at IWP to be an extremely supportive, collegiate environment, where a close-knit community of researchers could freely exchange and develop ideas. Since finishing, I have taught and researched work psychology and HR in academic positions at London School of Economics (LSE) Management School and the University of Edinburgh Business School.
Find a PhD
Search for PhD opportunities at Sheffield and be part of our world-leading research.