Week 1 Taster Sessions - Languages for All
Come to one of our taster sessions to experience what learning a language with Languages for All is like!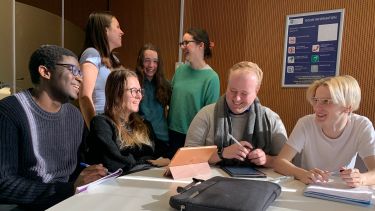 Off
Open Classes and Taster Sessions in Week 1
Not sure if learning a language is for you? 
Come and try one of our classes!
Select the language you're interested in to find out what time the taster session is running and in which room.
---
German

Week 1 German taster session on Thursday 28th September 2023, 15:00-16:00 in Information Commons room 4.02 and Tuesday 26th September 2023, 12:00-12:30 in Jessop Building, Ensemble Room 2

Czech

Week 1 Czech Beginner taster sessions on Tuesday 26th September 2023 14:00-14:50 in Jessop West Hub 2 and Thursday 28th September 2023 10:00-10:50 in Jessop West, Hub 1

Arabic

Week 1 Arabic Beginner taster session on Wednesday 26th September 2023, 13:00-15:00 in 9 Mappin Street, Seminar Room 122

Week 1 Arabic Post-beginner taster session on Monday 25th September 2023, 13:00-15:00 in Bartolome House, SR DB09

French

Week 1 French taster session on Monday 25th September 2023, 17:00-18:00 38 Mappin Street, Room G03 - Classroom 3

Polish

Catalan

Week 1 Catalan taster session on Monday 25th September 2023, 17:00-19:00 in 38 Mappin Street, 202 - Tutorial Room 8

Dutch

Russian

Week 1 Russian taster sessions as follows:

| | | |
| --- | --- | --- |
| Monday 25 Sept, 5 pm - 7 pm | Hicks F38 | Russian Beginner 1 |
| Wednesday 27 Sept, 5-7pm | 38 Mappin St, G02 | Russian Post-Beginner 1 |
| Tuesday 26 Sept, 3-5pm | 38 Mappin St G 08 | Russian Intermediate |
| Thursday 28 Sept, 12-1pm | 9 Mappin St G12 | Russian Intermediate |
| Monday 25 Sept, 1-3pm | Jessop West G03 | Russian Advanced |
| Thursday 28 Sept, 1-2pm | Jessop West 201 | Russian Advanced |
| Monday 25 Sept, 9-11am | 38 Mappin Street, 101 - Classroom 7 | Russian Higher Advanced |
| Tuesday 26 Sept, 1-3pm | Pam Liversidge Building, PLB - Design Studio 1 - D07 | Russian Proficient/Higher Proficient 1 |

Portuguese

Italian

Week 1 Italian taster session on Tuesday 26th September 2023, 14:00-15:00 in 38 Mappin Street, Room G03 - Classroom 3 and Tuesday 26th September 2023, 17:00-18:00 in 38 Mappin Street, G09 - Classroom 6

Latin

Week 1 Latin Beginner taster session on Monday 25th September 2023, 17:00-19:00 in Hicks Building, F24

Week 1 Latin Intermediate taster session on Tuesday 26th September 2023, 17:00-19:00 in Hicks Building, F41

Spanish
---
Spanish

Russian

Week 1 Russian taster sessions as follows:

| | | |
| --- | --- | --- |
| Monday 25 Sept, 5 pm - 7 pm | Hicks F38 | Russian Beginner 1 |
| Wednesday 27 Sept, 5-7pm | 38 Mappin St, G02 | Russian Post-Beginner 1 |
| Tuesday 26 Sept, 3-5pm | 38 Mappin St G08 | Russian Intermediate |
| Thursday 28 Sept, 12-1pm | 9 Mappin St G12 | Russian Intermediate |
| Monday 25 Sept, 1-3pm | Jessop West G03 | Russian Advanced |
| Thursday 28 Sept, 1-2pm | Jessop West 201 | Russian Advanced |
| Monday 25 Sept, 9-11am | 38 Mappin Street, 101 - Classroom 7 | Russian Higher Advanced |
| Tuesday 26 Sept, 1-3pm | Pam Liversidge Building, PLB - Design Studio 1 - D07 | Russian Proficient/Higher Proficient 1 |

French

Week 1 French taster session on Monday 25th September 2023, 17:00-18:00 38 Mappin Street, Room G03 - Classroom 3

Latin

Week 1 Latin Beginner taster session on Monday 25th September 2023, 17:00-19:00 in Hicks Building, F24

Week 1 Latin Intermediate taster session on Tuesday 26th September 2023, 17:00-19:00 in Hicks Building, F41

Portuguese

Polish

Italian

Week 1 Italian taster session on Tuesday 26th September 2023, 14:00-15:00 in 38 Mappin Street, Room G03 - Classroom 3 and Tuesday 26th September 2023, 17:00-18:00 in 38 Mappin Street, G09 - Classroom 6

Arabic

Week 1 Arabic Beginner taster session on Wednesday 26th September 2023, 13:00-15:00 in 9 Mappin Street, Seminar Room 122

Week 1 Arabic Post-beginner taster session on Monday 25th September 2023, 13:00-15:00 in Bartolome House, SR DB09

Catalan

Week 1 Catalan taster session on Monday 25th September 2023, 17:00-19:00 in 38 Mappin Street, 202 - Tutorial Room 8

Dutch

German

Week 1 German taster session on Thursday 28th September 2023, 15:00-16:00 in Information Commons room 4.02 and Tuesday 26th September 2023, 12:00-12:30 in Jessop Building, Ensemble Room 2