Work with us
Find out about current vacancies, how to apply and what it's like to work with us.
Lecturer in Radioactive Materials
Closes: 9th January 2023
Job Ref: UOS035635
What it's like to work in the department
Hear from some of our staff what it's like to work in the Department of Materials Science and Engineering.
Welcome from the Head of Department
"Delivering Materials for a Sustainable Future is the overarching goal of our research activity and our research themes reflect the breadth of this ambition: Materials for Extreme Environments, Materials for Society, and Materials for Medicine and Health. These strategic themes see us tackling outstanding challenges across as diverse sectors as aerospace, automotive, healthcare, information technology and energy.
The Department recognises the positive value of diversity in the workforce and is committed to a culture of inclusion. In recognition of our commitment to increasing the number of women in Materials Science and Engineering, the Equality Challenge Unit has awarded us an Athena Swan Silver Award. As the first female head of department of Materials Science and Engineering at Sheffield, I am especially proud of our leadership in embedding equity in academia and our commitment to developing the careers of our next generation of scientists and engineers.
Our learning and teaching vision is to recruit high calibre students, inspire them and provide a challenging curriculum that will ultimately equip our graduates with the skills to compete globally. At the heart of this is the Diamond, an £81M investment in dedicated teaching laboratories for bespoke undergraduate skills-training. With a strong team spirit and collegiate approach, we seek to create such opportunities for our students whilst simultaneously providing a rich and rewarding environment for our academic staff." 
Professor Serena Cussen FRSC FIMMM
Head of Department of Materials Science and Engineering
The Department of Materials Science and Engineering has a prestigious history dating from the 1880s and was a fundamental part of the University of Sheffield, which was granted a Royal Charter in 1905. Notable names include pioneers who have shaped the department - but importantly have shaped the Materials Science and Engineering world as we know it:

Harry Brearley – the inventor of stainless steel in 1913

Henry Clifton Sorby - the 'Father of Metallography' and President of the Royal Microscopical Society. Renown for discovering that carbon gives steel its strength.

Mark Firth – Master Cutler and Mayor of Sheffield. Renown steel industry founder and philanthropist.

William ES Turner – Pioneer of Glass Technology and former Head of Department. First introduced scientific methods as a basis for the properties of glass.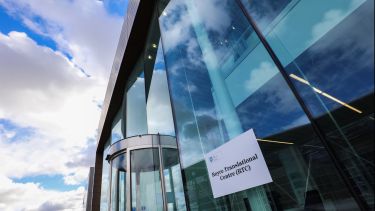 Today the Department is renowned for its teaching and research in Materials Science and Engineering, and continues to be successful in funding a range of world-leading research activities – from energy materials and metallurgy, to biomaterials and polymers. All of these areas underpin the science necessary for creating modern innovations in engineering and technology – from aircraft engines to batteries, and racing cars to medical implants.
Our students have ranked us number 1 in the UK for course satisfaction in the National Student Survey (NSS 2022). Our graduates are highly sought-after, with over 90% of our MEng students gaining employment or going into further study 15 months after graduation. 

In the most recent Research Excellence Framework (REF2022) 92 per cent of research and its real-world impact at the University of Sheffield has been rated as world-leading or internationally excellent.

From our origins we had the aim of delivering 'Technical training of those responsible for running the great industries of the region'. We maintain that aim to this day – with an international outlook.
Our research activities cut across both science and engineering, across industrial sectors and across materials classifications. We work collegially within the department to share knowledge, and interdisciplinarily with other university departments to infuse materials technologies within other disciplines. Research ranges from theory, concept and discovery to application, optimisation and translation.
We broadly classify our research into six research themes: Advanced Structural Materials, Biomaterials and Tissue Engineering, Functional Materials and Devices, Multiscale Materials Modelling, Nanomaterials and Nanoengineering, and Nuclear Engineering, although projects often straddle the boundaries between these themes.
We contribute to a number of research centres of excellence, including the Henry Royce Institute, MAPP (Manufacture using Advanced Powder Processes), DARE (Designing Alloys for Resource Efficiency), Steels Hub, MIDAS advanced characterisation lab for nuclear materials, CDP (Centre for Dielectrics and Piezoelectrics), and URI Energy.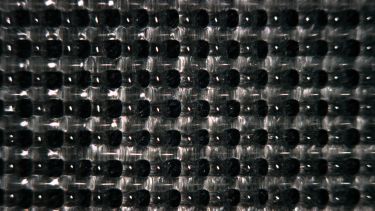 The Department is home to three Centres for Doctoral Training: Advanced Metallic Systems, Next Generation Nuclear and Advanced Biomedical Materials.
Each year, we are awarded about £12m to help us advance technology across a wide range of industries. In addition to the 36 academic staff, we have 61 research associates and 134 PhD students.
The Department of Materials Science and Engineering offers three and four year undergraduate courses and one year postgraduate courses which allow students to experience a wide variety of aspects of the discipline.
The first two years of our undergraduate degrees provide the foundations, after which students can choose to specialise in an area that is of particular interest to them. Areas of specialism include Biomaterials, Metallurgy or Nuclear Engineering, or students can opt for research experience or a year in industry.
Our first and second year undergraduate students are taught in the Diamond, a world class facility for engineering education opened in September 2015.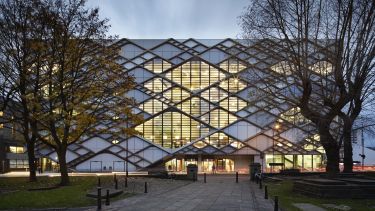 Our postgraduate taught programmes are suitable for materials scientists and engineers to further specialise, but are also ideal for students coming from outside the discipline to gain the skills they need to become a successful materials scientist or engineer. Postgraduate taught programmes are offered in Materials Science and Engineering, Advanced Metallurgy, Nuclear Science and Technology, Polymers and Polymer Composites, Aerospace Materials, Biomaterials and Regenerative Medicine and Nanomaterials.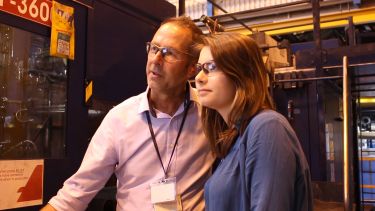 Since the Department was established in the 1880s, we have fostered lengthy relationships with industry, initially on a local level, but now on a global basis.
The broad and interdisciplinary nature of our materials and manufacturing research is enriched by collaborations with science departments such as Chemistry and Physics & Astronomy delivering the highest quality fundamental research, whilst development at higher technology readiness levels includes the participation of the Advanced Manufacturing Research Centre with Boeing and the Nuclear Advanced Manufacturing Research Centre.
Further translational research is underpinned by close collaborations between the Schools of Medicine and Dentistry and the more traditional engineering disciplines, allowing our researchers to exploit their understanding of underlying physical phenomena for the public good.
Long term investment and support by our sponsors, both private (e.g. Rolls Royce, Boeing, GKN, Seagate, Tata Steel, Johnson Matthey, Bentley) and public (RCUK, Innovate UK, EU), is devoted to creating a better understanding of the fundamentals of material science and to resolve challenges in a number of domains, especially the aerospace, automotive, healthcare, information technology and energy sectors.
We are the European hub for the Centre for Dielectrics and Piezoelectrics, with responsibility for growing membership of the CDP across the continent. Member companies will be able to access the research facilities of the Department and other Center Partners to develop projects to investigate and solve specific problems.
Highly competitive pay, pension, reward and recognition opportunities linked to performance.
An extraordinary health and wellbeing offer that promotes happiness and wellbeing amongst our staff through a broad range of inclusive activities.
A comprehensive selection of benefits and offers to suit your lifestyle needs under the umbrella of The Deal.
Access to our extensive development and training opportunities.
Award winning equality and diversity action which enhances working life for all within the Institution.