Undergraduate pre-arrival information
Everything you need to know before starting your university experience as a materials science and engineering student in our department.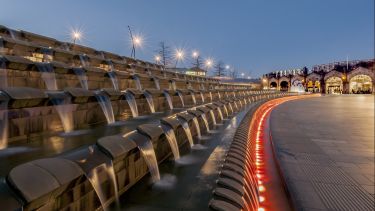 On
Time

Activity

Location

Monday 18 September

10:00-10:30

Refreshments and collect your welcome packs

Turner museum – Sir Robert Hadfield Building

10:30-11:00

Introduction and welcome talk

Lecture theatre 22 – Sir Robert Hadfield Building

11:00-11:15

Library Induction

Lecture theatre 22 – Sir Robert Hadfield Building

11:15-12:15

Top 5 Tips For Success and Happiness at University

Lecture theatre 22 – Sir Robert Hadfield Building

12:15-13:15

Tutorial group activities

Turner museum – Sir Robert Hadfield Building

13:15

Drop your quiz off

Room F20, Student Support Office – Sir Robert Hadfiled building

Tuesday 19 September

10:00-11:00

Race and consent workshop 1

Lecture theatre 21 – Sir Robert Hadfield Building

11:00-12:00

Race and consent workshop 2

Lecture theatre 21 – Sir Robert Hadfield Building

Wednesday 20 September

11:30-12:30

Becoming an Effective Engineer - Inclusive Group

Lecture theatre 22 – Sir Robert Hadfield Building

12:30-13:15

Meet your tutor lunch

Turner museum – Sir Robert Hadfield Building

13:15-14:00

Icebreaker task – a hands on practical session working in your tutor groups.

Turner museum – Sir Robert Hadfield Building

14:00-14:15

Debrief

Turner museum – Sir Robert Hadfield Building

15:00

MATSOC social

TBC!

Thursday 21 September

10:20-10:30

Introduction to today's sessions

Room G14 – 9 Mappin Street

10:30-11:30

English Diagnostic session [

Room G14 – 9 Mappin Street

11:30-12:30

Mathematics Diagnostic session

Room G14 – 9 Mappin Street

12:30-13:00

MASH support – find out what support is available for you

Room G14 – 9 Mappin Street

Friday 22 September

10:00-11:00

Induction to the danger lab

Workroom 1 – The Diamond

11:00-13:00

Danger lab

Room 306, Thermodynamics and Mechanics Lab – The Diamond
Before you arrive
Here you can find all the information you'll need before you arrive - as well as some extra information you might find useful on the best spots in the city, how to find your way around and how to access support if you need it.
How you prepare to join us in September is up to you, but the one thing you must do before arriving is register. You won't be able to start your course until you're registered so make sure to get it done in advance. But don't worry, it's super easy to do.
Here's all the information on how to register:
2023/24 Registration for Home Students 
2023/24 Registration for International Students 
The deadline for registering is Monday 16 October 2023 to start your course, and the in person appointment deadline is Friday 13 October 2023.
---
The University Health Service (UHS) is a National Health Service (NHS) GP practice for students and their families. You can register with UHS during your course registration or anytime on their website and view their full range of services including Mental Health Support.
UHS staff won't share your information with other University departments, including our department, without your consent.
​​​​​​Contact details:
Tel: 0114 222 2100
Location: 53 Gell Street, Sheffield, S3 7QP
---
As a university we offer plenty of support throughout your time with us. Below you can find resources on our Disability and Dyslexia Support Service and the academic support available.
Liaising with academic staff and central services about your support needs
Helping you to apply for Disabled Students' Allowances
Referring students who think that they might have a condition for free diagnostic assessments
Disability and Dyslexia Support Services (DDSS)

If you have a disability, medical condition, or specific learning difficulty, we strongly encourage you to contact the Disability and Dyslexia Support Service (DDSS).  

The DDSS is a confidential and friendly service which offers a range of support.

Academic support

Here you can find plenty of resources to get you up to speed on science and maths topics that could be useful as a chemical engineering student, including algebra and calculus.

These resources will be available throughout your time as a student here. It's part of our Maths and Statistics Help (MASH) service, which offers everything from 1:1 support to workshops. A greater range of study support is also available from the 301 Academic Skills Centre.
---
Whilst there is no need to prepare or do any specific reading, there are resources available if you would like to take a look at anything before you arrive. Everyone comes to Sheffield with different backgrounds, so you will be taught all you need relating to maths, biology, chemistry and physics in your first year. However, if you haven't studied some of these at A Level and would like to make a head start, we'd recommend having a look at some of the materials in the 'academic support' dropdown above and also visiting our Materials Discovery Portal.
---
Get up to speed with maths, physics and chemistry and start your journey into materials science and engineering.
On our Materials Discovery Portal, you will find lots of information about the topics you will encounter during your Materials Science and Engineering course as well as some of the Materials related content you will learn during your first year. As well as getting you up to speed for when you start your course, this will also be useful revision material throughout your time at university.
Visit the Materials Discovery Portal
---
Whether you already live in Sheffield, or you're coming to us from elsewhere, there's plenty to see. From the stunning Peak District right on our doorstep to the trendiest cafes and bars all the way to Tramlines music festival, we've got it all.
We have a full guide to Sheffield, including food and drink, sports, arts and culture and how to get around.
Another guide to the city can be found here, which includes information on our festivals, augmented reality art trail 'Look Up' and an alternative LGBTQ+ guide to the city. 
There are also maps of Sheffield and information on local public transport to help you navigate the city. In fact, we have a range of different maps to help you find your way around and find what you need:
---
Google Mail (also known as Gmail) is the University's email service, provided by Google. As part of your University IT account, it is integrated with the full suite of Google Apps.
Google Mail can also be added to mobile devices and used on the go, either through the dedicated Gmail app, or through a native email client app.
Both University and departmental staff will email you with important messages and announcements, so it is essential that you check your account regularly. Please note that once you've started with us, staff will only use and respond to your university email address.
Email etiquette

Choose a brief and specific subject line, that clearly tells the reader about the content of the email
Use an appropriate greeting, with correct titles, for example 'Dear Professor Cordiner'. See Academic Staff webpages for academic titles.
If a member of staff introduces themselves using their first name, then it is okay to also refer to them using their first name. 
Introduce yourself including your full name & programme of study.
Be clear about which module/assessment/lecture you are referring to, and always be polite.
Sign off with a courteous phrase, such as 'Best wishes' or 'Kind regards'
Be realistic about your expectations. When you email a member of staff or support inbox you can normally expect a reply within 3 days, but this may vary. If this time has passed, it is acceptable to send a polite reminder.



 
---
Undergraduate checklist
For a full checklist including weekly tasks (from registering to celebrating your success on social media) take a look at our undergraduate checklist, designed to get you ready for Sheffield.
---
After registration
Here we've put together information you might find useful for after you've registered. Some of this you won't be able to access until after you've registered, so make sure to check back then.
---
SSiD is a 'one-stop shop' student information service that can answer the majority of your questions. They can offer guidance on issues such as exams, changing course and extenuating circumstances, and provide a range of administrative services including:
UCards
Transcripts 
Bank letters
Student status documents
Council tax exemption letters
If they can't answer your question, they'll refer you to the relevant service or department who can. 
You can also browse their web pages for information, support and guidance on all aspects of university life - including an A to Z of all University Services, the Contact Hub which will help you find the right service for you, the Support Hub which will signpost you to the best help for your situation, and advice on Money & Fees. 
Location: Level 3, Students' Union Building. 
Opening times: Mon, Tues, Weds, Fri: 9am-5pm. Thurs: 10am-5pm.
---
If you need support with anything IT related, there are some resources here, including information on Google Workspace, Gmail, Google Calendar and Google Drive
Here are some other helpful guides and explanations:
---
You can view your timetables through either Google Calendar, MUSE or the iSheffield app. Information on how to read your timetable can be found here.
Alongside showing your timetable, the iSheffield app also has information on the libraries, campus maps, social events and support services etc.
---
Blackboard is an online learning environment designed to enable access to module information, previous exams, exam feedback, reading lists and an array of revision material. As long as you're fully registered for a module, you'll have automatic access to Blackboard. Please refer to the digital learning pages for additional information. 
---
Starting university is a huge change, and there may be times when you need some extra support.
The Student Mental Health, Counselling and Therapies Service can help you navigate your support options and agree on a tailored plan of psychological support. Any University of Sheffield student can register online with the service. Further information on the service can be found on the Student Hub.
NHS support for mental health is also available via the University Health Service or at the Sheffield Walk-In Centre Wellbeing Hub. For the Walk-In Centre, no appointment is required. However, you can call to book a video consultation, phone consultation, or an appointment slot for you to attend.
The University Counselling Service (UCS) runs a number of mental wellbeing workshops, free of charge and operating on a drop-in basis. These require no registration and are free to all students.
Togetherall is an anonymous digital mental health support service available to all students, so you can have free access to support at home or while abroad. It provides immediate access to 24/7 online peer and professional support, with trained counsellors.
The Student Wellbeing Service offers short-term, tailored one-to-one support if you're experiencing difficulties and challenges, to help you manage your wellbeing and succeed at University. If you're feeling down, overwhelmed or struggling to adjust to student life, your Faculty Wellbeing Advisor can assist you in improving your wellbeing and help you get back on track.
---
Here's a guided tour of the building which is home to the Department of Materials Science and Engineering. You can also take a self-guided tour by visiting the Discover our Department page. Most of our academic staff are based in this building. There are also lecture theatres and some labs where you will take practical classes. 
---
Run by students for students, the Materials Science and Engineering Society (MatSoc) is fun, friendly and ideal for meeting students from other years as well as joining socials, trips and sporting events.
Events can range from visits to the Peak District to bowling to bar socials – there is something for everyone.
Plus if you're into competitive sport, the Society has two 6-a-side football teams and two netball matches a week, with plenty of other sporting opportunities available throughout the year.
Take a look at their website to find out more.
Instagram: matsoc.uos
Twitter: @MatSocTUOS
Facebook: matsoctuos
---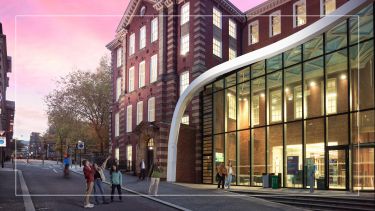 Visit us
Discover what sets Sheffield apart at our undergraduate open days on the Saturday 21 October or Saturday 18 November.