Student searches rainforest in Guyana for rare harpy eagle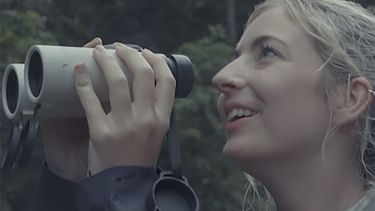 Natasha Ellison's mission to Guyana to spot a rare harpy eagle has been captured in a new documentary, To Find a Harpy, produced through the BBC's Natural History Unit.
The film was shot and directed by Daniel O'Neill, a graduate from the University of Sheffield's Department of Animal and Plant Sciences, who invited Natasha to join the project as a keen birdwatcher.
Natasha, who is currently completing her PhD with Dr Jonathan Potts in the School of Mathematics and Statistics' Mathematical Biology group, and Professor Ben Hatchwell in Animal and Plant Sciences, said: "Guyana is a country which is quite untouched by the tourist industry and has one of the lowest rain forest deforestation rates in the world. Travelling through the country was quite a unique experience.
"Our only plan to find a Harpy was to travel to various indigenous villages and speak to the local people about any sightings or nests. It was more exciting than we could imagine, we camped out in the forests in hammocks, right near to Goliath birdeaters and Bullet ants."
For her PhD, Natasha uses partial differential equation models to understand the behavioural drivers of space use patterns in animal populations. Her work focuses on a population of long-tailed tits in the Rivelin Valley, Sheffield, which Professor Hatchwell has studied for more than 20 years. These birds are particularly interesting for Natasha's work as they split into distinct flocks which each maintain almost-exclusive home ranges, without being observed to engage in territorial aggression.
During her trip to Guyana, she gave a talk about her work at a research centre in the middle of the jungle. "This lead to lots of local people talking about their knowledge of animals movements such as jaguars and giant anteaters," she said. "The Guyanese people had some amazing stories to tell. We made many friends along the way, eventually being led to expedition expert Ashley Holland in the Rupununi, bordering the Brazilian Amazon, and he was our best and last chance of finding a Harpy."
"Dan, who created the film, was very professional and recorded almost every step we took. It was very strange being filmed all the time, but he taught me to ignore the cameras. We also had an extra camera operator from the UK, Jonny. Between them they really captured the beautiful imagery and sounds of the forests.
"Dan took a few months to edit and produce the film and he wouldn't let me see it until the screening at a cinema in Bristol. That was a much more terrifying experience than the spiders and insects we encountered, but I'm really please with the result. Dan is very talented.
"Since the screening we've been invited to show the film at some ornithological meetings, alongside a popular science talk about my research. I'm hoping that all the friends and connections I have made will lead to more opportunities to promote the area of mathematical biology to a wider audience."
Runner-up prize at ecology conference
Natasha recently presented her work in a poster at the British Ecological Society's Annual Meeting, where she was named as one of two runners-up for the Student Poster Prize.
Her poster, title 'Mechanistic Modelling of the Home Range Patterns of Long-Tailed Tits', was chosen from 150 posters that were presented at the event in Birmingham in December.
A world top-100 university
We're a world top-100 university renowned for the excellence, impact and distinctiveness of our research-led learning and teaching.