Mechanical Engineering students get that festival feeling designing novel musical instruments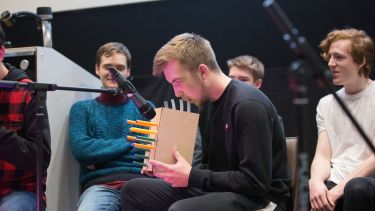 The Department of Mechanical Engineering at the University of Sheffield might not be top of your festival go-to list, but perhaps it should have been when mechanical engineering students shared their novel instrument designs, all developed as part of their course.
With a focus on design and manufacturing, students were challenged to create three musical instruments that were low power, portable, and innovative - making them practical designs to take along to a festival.
Groups were also tasked with developing a 'kickstarter' style marketing campaign for their creations to share alongside their manufactured instruments at an end of module performance.
---
Overall, the students exceeded our already high expectations as the ambition and effort put in was fantastic. I was particularly impressed by the variety of designs and how the students took charge of their own learning – prototyping designs, developing CAD skills and learning manufacturing techniques – which can all be applied in their future studies and careers."

Dr Tim Dolmansley

University Teacher
---
And our students didn't disappoint, with a wide variety of different instruments and designs brought to the performance in December, which was held at the University of Sheffield Students' Union.
The audience, made up of both students and staff, rated each of the seventeen groups on three different criteria – innovation, musical accuracy and complexity, and aesthetics – and then had to decide which groups they would commit virtual funds to.
"Although we had a lot of fun at the final performance, this module was quite challenging for our students as they had to learn a lot of engineering design principles, apply them to a brief and then see it through to manufacture and testing," explains Tim Dolmansley, University Teacher on the module at the Department of Mechanical Engineering.
"It's not an easy feat, especially as for many of the students this was their first ever semester at university, working in groups with people they have never met before. But we wanted to give students an interesting and stretching challenge, something that they perhaps wouldn't necessarily associate with engineering – although creating something like an instrument actually requires a lot of physics and engineering application.
"So alongside some really valuable engineering design skills and experience, our students have also been developing other crucial skills that modern engineers need – communication, teamwork and project planning – invaluable skills in industry."
---
I'd definitely recommend this module, it was a lot of fun and it was also a great chance to meet people on your course

Elsa Bjarnason

MEng Mechanical Engineering with a Year in North America
---
Complete with a (fake) campfire to give it that festival feel, the groups of students gathered to play their instruments and discuss them with a panel of experts.
"There were some great examples on show and it was the culmination of a lot of hard work from the students in terms of understanding the brief and translating that into some excellent concepts and prototypes," added module leader Pete Mylon, University Teacher and Academic Lead for the iForge.
The majority of students taking part in the module were in their first year of studying mechanical engineering at the University of Sheffield, where undergraduate courses cover all aspects of engineering – including design and manufacture – as well as the fundamental scientific principles underpinning them.
They were also joined by a number of second year bioengineering students who took part in the module as part of their studies too.
Elsa Bjarnason is studying towards her MEng Mechanical Engineering with a Year in North America and took part in the challenge.
"I'd definitely recommend this module, it was a lot of fun and it was also a great chance to meet people on your course.
"The skills we have learnt we can transfer, such as team-building skills. That was something we definitely worked quite a lot on and will be useful throughout our whole engineering careers – and also time management as that's a really useful skill for future projects and modules.
"It's been rewarding and the instrument that worked was very rewarding to see! With the amount of time we put in at the iForge, it was nice when something did click and finally worked, as quite a lot went into it."
Paul Lamberton also took part in the challenge, designing one of the instruments for his group.
"It was good fun and there are so many different ideas that you could come up with that no two would be the same, so you'll always have your own design. For me that was very satisfying.
"I also learnt about risk assessments as there were high voltage parts in my design, as well as a lot about time management."
Whether a MechEngFest will catch on with a general festival audience, we'll have to see, but with all of the different design approaches and applications, it is safe to say that our students have made a great start to their mechanical engineering courses.
We look forward to seeing what they come up with next!
A global reputation
Sheffield is a research university with a global reputation for excellence. We're a member of the Russell Group: one of the 24 leading UK universities for research and teaching.