On a mission to inspire learning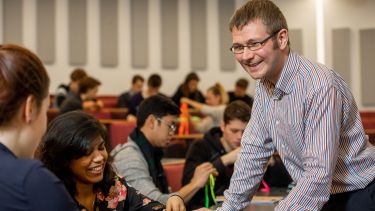 Hi Gary, lovely to see you! We hear you've had some good news recently, do tell!
It's been quite an exciting time as I was announced as one of this year's National Teaching Fellows by Advance HE. It is a really prestigious award that only 55 people are recognised with each year, so I am really humbled to have been selected alongside two other colleagues at the University of Sheffield.
---
It really is such a great privilege to inspire learning in students and colleagues. I am pleased to have been able to champion approaches that connect students' learning to their future aspirations

Gary Wood

University Teacher in Professional Skills
---
Can you tell us a bit more about what a National Teaching Fellowship is?
The aim of the National Teaching Fellowship (NTF) scheme is to celebrate and recognise individuals who have made an outstanding impact on student outcomes and the teaching profession in higher education.
It has been running since 2000 and there are now over 900 National Teaching Fellows. It's all organised by Advance HE and after gaining their award, fellows play an ongoing role in enhancing teaching and learning within their institution, the HE sector, and further afield. That's something I am really passionate about being involved in.
Overall I am just so honoured that my work has been recognised with such a prestigious national award, and grateful to all of my students and colleagues who make every day as a teacher and educator so rewarding.
It must mean a lot to you. Have you always wanted to work in higher education?
It certainly does mean a lot and helping to develop higher education has been such an important part of my life.
For me, it really is such a great privilege to inspire learning in students and colleagues. I am pleased to have been able to champion approaches that connect students' learning to their future aspirations and enable them to succeed. It's immensely gratifying to see students surprising themselves as they discover their potential and how much they can achieve, and inspiring to be able to learn collaboratively with and from them
Overall, I think I have always been interested in evolving and innovating teaching approaches to engage and support students to succeed. I've been involved in higher education for a long time, both inside and outside engineering, and learnt a lot.
For example, before I was involved in SELA and working within the Department of Mechanical Engineering, I was teaching linguistics and then working to embed enterprise education into higher education curricula. I've also been lucky enough to co-lead an EU-funded project called UNIWORK that aimed to enhance employability services in Higher Education Institutions across Central Asia.
I think this varied experience has brought some different insight and experiences that have really helped in the establishment of SELA and more recently in evolving the Mechanical Engineering curriculum through a Programme Level Approach (PLA), where students will have ongoing opportunities to develop the knowledge, skills, and range of attributes they need to become assured and confident graduates.
So what's next? We bet you've got some exciting new developments up your sleeve!
Well we have some really exciting projects in SELA for this academic year and I'm also really looking forward to working with our newest cohort and starting to recruit again too. I'll also be busy leading aspects of the ongoing development of learning and teaching at the Department of Mechanical Engineering and of course getting stuck into the wider conversation around learning and teaching approaches across the University of Sheffield.
Congratulations again Gary, how will you be celebrating?
Thank you! Well, I attended a very impressive black tie awards event in Manchester in October, which was a chance to network and celebrate with the other award winners from across the UK. I might also have indulged in a celebratory gin or two!
To find out more about the Advance HE Teaching Fellowships and all three 2019 winners from the University of Sheffield, click here.
A world top-100 university
We're a world top-100 university renowned for the excellence, impact and distinctiveness of our research-led learning and teaching.