Student Poster Competition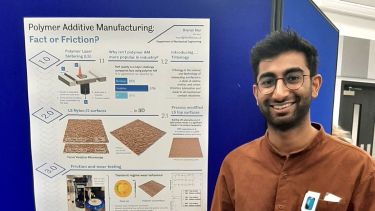 The  Department of Mechanical Engineering's second-year PhD poster competition gives our department's students the opportunity to visually showcase their research work, allowing everyone within the department to see their work first-hand.
It's a fascinating insight into the varied projects which our students are undertaking here at Sheffield and it's great to be able to visually understand their work.  The whole Department is invited to see the posters and then vote for their favourite.
This year Kieran Nar won the competition with his uniquely 3D poster which was aptly viewed through 3D glasses.  
It was great seeing my research come to life through the use of 3D glasses and learning more about other fascinating work being carried out in the department.

Kieran Nar
Kieran added that his poster "summarised my doctoral work which involves investigating the friction and wear properties of Laser Sintered polymer components. To date, this includes characterising their topographies as well as their tribological performance during the transient regime."
Find a PhD
Search for PhD opportunities at Sheffield and be part of our world-leading research.