Community involvement within the School of Clinical Dentistry
We engage with the local community through different events to help improve public health and promote good dental health.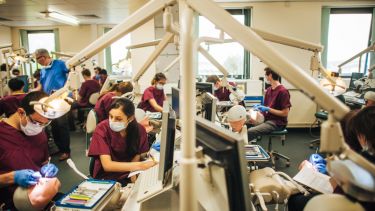 Sheffield University Dental Students Society (SUDSS)
Dentistry students as part of SUDSS have been engaging with the community on a regular basis to try and improve public health. The state of dental health in Yorkshire and Humber is far below the national average with a child in South Yorkshire 5 times more likely to be admitted to hospital for a tooth exractuion than a child in the east of England.
Mouth Cancer Awareness Week
SUDSS put togther a week of events in November 2017 highlighting the issue of mouth cancer which contributes to 127,000 deaths a year. Over the week they had an information stall at the Shefffield Students' Union highlighting the issues around mouth cancer to other students and members of the general public. They set up an interactive stall providing information about moth cancer such as signs, symptoms and risk factors of the disease.
As well as this they did some fundraising through a bake off, students vs staff football, a pyjama day as well as a charity social with all the proceeds going to the Ben Walton Trust, a charity specialising in raising general awareness of the disease and aiding research into mouth cancer.
---
Public engagement events
The School of Clinical Dentistry also participates in regular public engagement events promoting good dental health and providing expert information to the public such as during the annual Life festival held which celebrates the work that the University of Sheffield's medicine, dentistry and health researchers are doing to improve people's lives.
They also host an annual discovery night where they explained their research and promoted dental hygiene, aiming it at primary school children with over 175 visitors attending. This involved explaining dental hygiene in a simplistic but fun way and trying trying to understand and dispel the fear of going to the dentist many children have.
A world top-100 university
We're a world top-100 university renowned for the excellence, impact and distinctiveness of our research-led learning and teaching.