Community Partnership Placement Thank You Event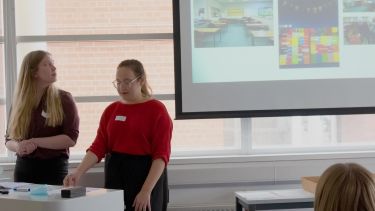 The event, held on Thursday 3 March at the Clinical Skills Centre at Samuel Fox House, gave third-year students the opportunity to share their experiences undertaking community placements with charities and organisations around Sheffield and the surrounding area.
The Community Partnership Placement was launched in 2015 and gives third-year University of Sheffield medical students the opportunity to do a full-time four week placement within a local organisation or charity. 
The placement is designed to provide students with practical learning experiences away from clinical settings, helping them to develop a broader understanding of how professionals from different backgrounds work together to address health inequalities within local communities. Working with regional organisations enables our students to make a tangible contribution to the health and wellbeing of communities facing specific health issues and is an example of the University's MadeTogether programme where improving health outcomes across the region is a key ambition. 
On placement, students must complete a piece of project work that will make a tangible difference to the organisation or the health and wellbeing of a local community or specific client or service user group. This can include getting involved in a variety of activities including project work, resource development, client work, literature review and evaluation and research.
At the end of the placement period, workshops are held where students present their experiences to fellow students.
From November - December 2021, 295 students took part in a total of 73 different placements. Since the introduction of the placement in 2015, 1,701 medical students have completed placements in over 180 organisations across South Yorkshire and North Derbyshire.
The thank you event began with a brief welcome from Professor Michelle Marshall, the Head of Academic Unit of Medical Education, who thanked the community partners in attendance for offering students a 'brilliant experience' which will have a direct impact on clinical practice for our future doctors.
Dr Joanne Thompson, Senior University Teacher and placement lead, then delivered a presentation which detailed feedback that had been received from both students and community partners.
Standout feedback from the presentation included 95% of organisations saying that they would take part again, whilst the scheme was also described as of 'mutual benefit' for students and organisations, with students offering 'fresh ideas and perspectives' and having a positive impact on service users, whilst also gaining an improved awareness of health inequalities in South Yorkshire.
"The event was a wonderful opportunity to meet our community partners and to offer our sincere thanks to them for offering these unique community placements for our third year medical students", said Dr Thompson.
She added: "They offer their time, knowledge, skills and passion so generously and in doing so this really helps to inform the thinking of our future doctors. It is a real privilege to work with so many talented and committed people across South Yorkshire."
After the evaluation presentation, attendees heard from partner organisations Sheffield Children's University and In2Change, who both spoke positively about their experience of hosting students. 
Students on placement with Sheffield Children's University worked to create a medicine based 'Project in a box', which contains resources for school children to discover more about medicine. The project boxes were distributed to an additional 21 schools in disadvantaged areas around South Yorkshire and many students also went into schools, helping them to make the most out of the project.
In2Change is a charity that aims to prevent young people and ex-offenders from becoming or remaining involved in criminal activities through targeted interventions that are designed and delivered by ex-offenders and serving prisoners. The charity has a dedicated centre in Sheffield and has been working with medical students from the University of Sheffield since the placement was introduced in 2015. They took on seven students across three projects in 2021.
Two groups of students then spoke about their experiences on placement, at the RIVA Project and Spectrum Theatre respectively. Both sets of students spoke positively about the impact that the placement had on them and the impact they believe it will have on their development as doctors, and on their future clinical practice.
Local organisations and charities within Sheffield and the surrounding area can find out more about hosting students as part of the Community Partnership Placements by contacting our Social Accountability academic lead Dr Joanne Thompson on j.thompson1@sheffield.ac.uk.
A world top-100 university
We're a world top-100 university renowned for the excellence, impact and distinctiveness of our research-led learning and teaching.