This page relates to applications for 2021 entry for both the MBChB Medicine (A100) degree and the MBChB Graduate Entry Medicine (A101) degree.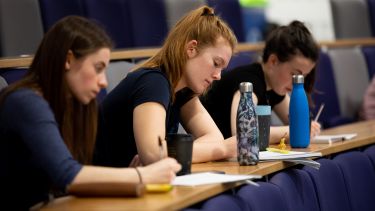 It is supported by our A100 MBChB Admissions Policy and our A101 MBChB Admissions Policy. 
This page relates to applications for 2021 entry. Applicants for entry in 2020 can find the webpages that pertained to their application via this download.
The current COVID-19 pandemic has the potential to impact on our admissions processes. For the advice on this for prospective students, see here.
On this page:
How to apply
Applications for Medicine are made through the University and Colleges Admissions Service. UCASApplying for a place to study Medicine is extremely competitive.
For our five-year Medicine MBChB programme (UCAS code A100) we currently have 273 places for Home students from the UK and 18 places available for International students.
For our four-year Graduate Entry Medicine MBChB programme (UCAS code A101) we have 15 places for Home students from widening participation backgrounds. Please note that we do not have international places for our A101 programme.
Application should be made for either the standard five-year A100 MBChB course or the Graduate Entry four-year A101 MBChB Medicine course. Applicants who wish to be considered for both A100 and A101 will need to apply to both courses.
For entry in 2020 we received over 2,600 applications for a total of 306 places. Unfortunately, due to the volume of applications we receive we are unable to consider any late applications. The UCAS application deadline is 15 October 2020.
Entry requirements
What happens to your application?
Fees and bursaries
Other costs
Mature and International Students
Other relevant information
Frequently asked questions