Department of Music provides two funded doctoral scholarships in musicology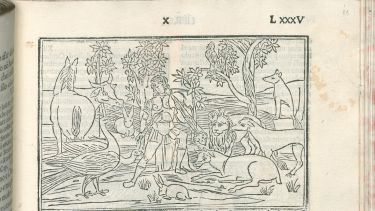 The three-year project 'Sounding the Bookshelf 1501: Music in a Year of Italian Printed Books', funded by the Leverhulme Trust, will map the forms of musical knowledge circulating in print in Italy at the beginning of the sixteenth century. 
Project Summary
358 known editions were printed in Italy in the year 1501. Few contained notated music or specialist music theory; yet these books present a cornucopia of musical knowledge—as sounding art, social skill, metaphor, science, therapeutic practice, aspect of religious experience, in a programme of education, etc. These sources, largely ignored by musicologists, offer compelling witness to the contemporary understanding of music beyond the limited perspective of the professional musician. The project will harness this body of evidence to give an accurate and balanced snapshot of the Italian discourse on music in 1501 as viewed through the technology of print.
The research will proceed in three phases. In Phase 1 we will create a simple database of the 358 editions, and also define a 'back catalogue' sample of texts printed multiple times during the 1490's. During this phase we will identify and secure (or create) digital copies for as many editions as possible. In Phase 2 we will read every edition in our database, excerpting and translating any passages relevant to music (defined very broadly) into record cards; held as an Online Reader on the project website. Our work in this phase will be organised according to four categories of book: religious; ancient and scholarly; verse and prose fiction; and lifestyle literature. In Phase 3 we will synthesise the information gleaned from Phase 2 to write a co-authored book.
Studentships
The doctoral students are tied specifically to two of the four categories: verse and prose fiction, and lifestyle literature. By 'verse and prose fiction' we mean both medieval and contemporary (i.e. Renaissance) verse, and fictional prose writing (e.g. novellas), in both Italian and Latin. By 'lifestyle literature' we mean a wide range of literature including self-help books dispensing advice on conduct and regimen, schemes of praiseworthy education laid out for parents to follow, astrological guidebooks, moral counsel, local chronicles and histories, celebrity biographies, and ready reference publications on a variety of topics.
The doctoral students will be supervised by the Principal Investigator, Dr Tim Shephard, in the Department of Music. They will also have Dr Erin Maglaque in the Department of History as a second supervisor.
Funding will be fees + maintenance at standard RCUK levels (currently £15,285 stipend in 2020/21), with access to the project's travel budget.
Duties:
- Contribute to the creation of the database and the process of securing digital copies in Phase 1.
- Lead on either verse and prose fiction, or lifestyle literature, in Phase 2 and 3.
- In addition to developing synoptic material for the project book, identify a focussed topic within the broader field of their category to write up as the doctoral thesis.
- Travel to libraries and archives internationally as required to complete the research.
- Present work in progress at conferences internationally.
Skills, expertise, experience and qualifications:
- Some existing expertise in Renaissance studies (any field, not necessarily music).
- Some tangible interest in music as a historical topic.
- At least intermediate language skills in Italian and English, with a clear expectation to develop these to advanced level.
- At least beginner Latin, with a clear expectation to develop this to advanced level.
- Experience of managing an independent research project (e.g. an MA thesis).
- Experience of working with primary sources.
- Normally candidates will be expected to hold an MA in a humanities discipline, at merit level or above, at the start of their doctoral registration.
Application Process
For general information about doctoral study and research in the Department of Music at Sheffield please consult this webpage: https://www.sheffield.ac.uk/music/postgraduate/phd
Closing Date: Please email CV and covering letter to t.shephard@sheffield.ac.uk by 9am Monday 7th September.
Interviews (with Dr Shephard and Dr Maglaque) will be held virtually on Tuesday 15th September.
The start date of the project is Monday 5th October 2020.
Find a PhD
Search for PhD opportunities at Sheffield and be part of our world-leading research.