Asociacion Centro Technologico Ceit-IK4, San Sebastián, Spain.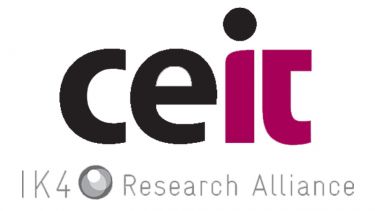 On
Ceit-IK4 is a non-profit research centre, created by the University of Navarra in 1982.
Our primary mission is to carry out applied industrial research projects under contract, working closely with our clients' R&D departments.
Ceit-IK4 promotes excellence in applied research by publishing non-confidential results and disseminating scientific and technical knowledge in a variety of venues. We also train doctoral students within the framework of industrial research projects.
Ceit-IK4 seeks regular collaboration with companies in a range of sectors. These sectors include railway, aeronautical, automotive, health, manufacturing, energy and environment.
We strive to understand all aspects of our clients' business in order to develop high value-added solutions through applied investigation projects.
In addition to offering innovative solutions to our clients, Ceit-IK4 trains young researchers who are preparing to join the labour market and add value to the production system.
The group of Laser and Additive Manufacturing is a multidisciplinary group that focuses its research activity in two main lines.
The first is additive manufacturing. This includes design for additive manufacturing, development and optimization of the LMD process (Laser Metal Deposition), metal powder manufacturing and post-processing through HIP.
The second focus is laser processing of materials for a range of applications such as solar cells, semiconductor lasers and biomaterials. Techniques include laser interference lithography, laser direct write ablation and femtosecond waveguide writing in glass.
The roles Ceit-IK4 contribute to the project include
the study of surface interactions with pulsed laser interference patterns
designing and prototyping of laser interference lithography systems for in-situ application
the synthesis of nanopatterned SPR sensors and ZnO Nanowires
contributions to project management through leadership of WP2 and through dissemination and exploitation tasks
Dr Santiago M Olaizola leads the NanoStencil activity at Ceit-IK4.
He is head of the photonics team in the unit of microsystems. The unit's research is focused in the field of micro/nano fabrication methods using pulsed and ultrafast laser sources.
In this area, he has developed multi-beam interference tools for industrial laser processes. He is currently also involved in the development of robust surface micro/nanofabrication processes using ultrafast laser sources.
Contact: yolaizola@ceit.es
A global reputation
Sheffield is a research university with a global reputation for excellence. We're a member of the Russell Group: one of the 24 leading UK universities for research and teaching.