The University of Bedfordshire
Department of Computer Science and Technology, Luton, UK.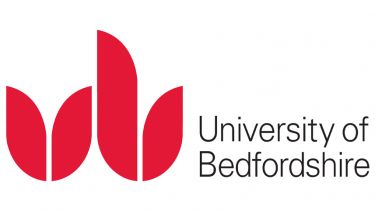 On
The University of Bedfordshire, situated in Luton, is one of the post-1990 universities in the UK.
Research proposed in this project will be carried out in the Department of Computer Science and Technology (CST). CST has led and participated in ten EU projects in recent years.
The Department of Computer Science and Technology has more than 90 research students and 20 postdoctoral research fellows.
Laser interference nanomanufacturing is one of the key areas in CST's research strategic plan.
The centre has had key involvement in the EU projects:
Development of Lithography Technology for Nanoscale Structuring of Materials Using Laser Beam Interference (DELILA), EU FP6, 2006-2009.
Hybrid Ultra Precision Manufacturing Process Based on Positional-and Self-assembly for Complex Micro-products (HYDROMEL), EU FP6, 2006-2010.
Laser Nanoscale Manufacturing (LaserNaMi), EU FP7, 2010-2013.
The centre has published more than 100 research papers in high quality journals. These report the centre's achievements on the effect of azimuthal angles on laser interference lithography, the fabrication of moth-eye structures on silicon by direct laser interference lithography, the creation of anti-reflecting and super-hydrophobic surfaces and the effects of polarisation on four-beam laser interference lithography.
The centre has a 600m2 clean room and extensive facilities for laser interference lithography and nanoscale characterisation. It has high power laser interference lithography systems, coherent beam diagnostics, multi-function SPM systems, a dedicated nano-manipulation and lithography SPM, an environmental scanning electron microscope (SEM), FIB, ICP and a 3D confocal microscope.
The roles the University of Bedfordshire contribute to the project include
designing and prototyping laser interference lithography optical systems for in-situ application
the study of surface interactions with pulsed laser interference patterns
contributions to project management through leadership of WP1 and through dissemination and exploitation tasks
Professor Dayou Li 
Professor Dayou Li is Professor of Robotics and Deputy Director of JR3CN. He is the local PI of the NanoStencil project.
His current research is dedicated to the precise control of AFM. This is for use in nano-assembly and on the application of laser interference processes on the nanoscale.
He has led two EU projects (SRS and ECROBOT) to recent successful completion and is leading a further EU project (BioRA) within this theme.
Professor Li has approximately 100 research papers in his research areas. 
Professor Zuobin Wang
Professor Zuobin Wang is a Professor within JR3CN, Vice-President of the 3M-NANO international Society and the founding chair of the IEEE International Conference on 3M-NANO.
As coordinator or participant, he has been involved in more than ten recent EU projects, such as DELILA, HYDROMEL, LaserNaMi and FabSurfWAR in the areas of laser interference, laser nanoscale manufacturing and nanometrology.
The results of these projects and more recent studies on the nanostructuring of silicon surfaces underpin the lithography aspects of this proposal.
Professor Changsi Peng
Professor Changsi Peng is leading a research group. The group is working on direct laser interference nano patterning, absorption of pulsed laser including thermal gradients and transition, photochemical reactions on surface, and defect-free site-controlled epitaxial InAs/GaAs quantum dots (QDs).
He has intensive experience in the Molecular Beam epitaxy and processing of III-V semiconductor photonic devices.
Professor Peng has published more than 140 scientific research papers and has a number of patents in these areas.
A global reputation
Sheffield is a research university with a global reputation for excellence. We're a member of the Russell Group: one of the 24 leading UK universities for research and teaching.