Unravelling the mysteries of the nervous system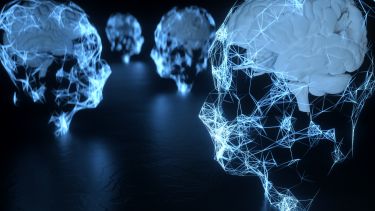 Sitting on your shoulders, inside your head is the most complex known structure in the universe: the human brain. Containing one hundred billion neurons, the brain is responsible for every thought, feeling, memory and action we have. It influences and shapes our personality, conscience, passion, motivation and imagination across our lifetime, and only stops doing so eight seconds after the rest of our body has stopped working.
Over the last 15 years we've learnt more about how the human brain operates than in all of human history, yet we still know less about it than the least explored regions of the deepest ocean. 
Each year hundreds of millions of people die from over a thousand neurological disorders for which we have yet to find a cure. Our neurological systems are undeniably complex, but to prevent and treat neurological and sensory-related diseases effectively we need to vastly improve our knowledge of the brain and nervous system.
At the University we see this as one of the most immense challenges of the 21st century, but it's a challenge we want to overcome. This vision will be at the heart of the Neuroscience Institute which will be fundamental to understanding the brain and nervous system with the view to improving the lives of patients suffering from neurological and sensory disorders such as Alzheimer's disease, motor neurone disease (MND), Parkinson's disease, stroke, impaired hearing and vision and chronic pain. 
Drawing on expertise from Medicine, Science, and Engineering, the institute will tackle some of the world's biggest neurological challenges. From fundamental neuroscience research right through to novel therapies and pioneering trials, we put patients living with neurodegenerative disorders at the heart of all our research. 
To guide the core of our work the Neuroscience Institute will stand on three pillars:
Translational neuroscience for chronic neurological disorders
Computational and systems neuroscience
Sensory and developmental neuroscience
Professor Dame Pamela Shaw, Director of the Neuroscience Institute, said: "The vision behind the Neuroscience Institute is to bring world-leading scientists, clinicians and engineers together to focus their expertise on tackling the biggest neuroscience challenges which affect the lives of millions of people throughout the world.
"We aim to harness pioneering developments in fundamental science and translate new approaches into novel therapies which have a direct impact on patients and their families.

Professor Dame Pamela Shaw
"Sheffield has a unique neuroscience community with a well-established pipeline from laboratory bench to clinic thanks to our partnership with and location next to one of the largest and most successful hospitals in the UK – Sheffield Teaching Hospitals NHS Foundation Trust.
"Our groundbreaking research into neurological and sensory-related diseases has already made a significant difference to the quality of life for patients living with these conditions including motor neurone disease, multiple sclerosis, Parkinson's disease and hearing impairments.    
"We are now looking to further enhance our partnerships with other world-leading institutes and industry partners, who come to Sheffield because of our vast range of specialist models, cells, bio samples and innovative imaging technology, so we can share understanding and accelerate the development of new treatments."
Building on our expertise
Neurological and sensory-related diseases are the number one cause of disability in the world and the burden of neurological disorders on society has long been underestimated. As we continue to live longer, the prevalence of these disorders will only increase - putting a greater strain on health services and the economy, not to mention the quality of life of afflicted people.
At the University, we want to ease this burden on individuals and society. We already have a global reputation and an esteemed history of neuroscience research associated with the Sheffield Institute for Translational Neuroscience (SITraN). Since its establishment in 2010, SITraN has been delivering world-renowned research that is centred around the treatment of neurological disorders including Alzheimer's disease, MND, stroke, multiple sclerosis and Parkinson's disease. 
Advances in the field of neuroscience have accelerated over the last decade with the 'post-genome' era and developments in biomedical therapeutics. SITraN was created from an opportunity to build on these developments. Now, we have a new opportunity to build on the expertise and advances within SITraN and apply them to a wider community of academic excellence tackling a broader range of diseases within the new Neuroscience Institute. 
Translating science into action
We are drawing on world-renowned expertise from across the University. From computer science to dentistry, everyone has a role to play in understanding the nervous system and already our researchers are changing the lives of patients.
Although work on the nervous system and neurons in particular, is an extremely intricate and often high-risk process, the University's School of Clinical Dentistry has established itself as world-leaders in the repair of the trigeminal nerve.
While uncommon, damage to the nerve through routine dental procedures can have a huge impact on those affected, causing severe pain in the facial region and downstream emotional impacts such as increased feelings of anxiety and depression. The transformative surgical procedure developed at the University is, however, changing the lives of these patients by repairing the damaged nerve.
Last year (2018) neurologists from the University were integral to the launch of the first ever international, large-scale, randomised trial for stem cell treatment in people with acute multiple sclerosis which stabilises the disease and helps to improve disability 
Patients are at the heart of our research. We're increasingly taking a patient-centred approach that relies on feedback from patients about what they want and need allowing us to develop treatments that target the unique needs of each patient group. At the University this is a tried and tested approach. 
In 2018, research into a new collar to support the neck muscles of MND patients was designed and developed in collaboration with the patients and their families. The project which was funded by the National Institute for Health Research's (NIHR) Invention for Innovation (i4i) programme and the Motor Neurone Association, was brought to market as  a result of an innovative five-year project working with Sheffield Hallam University and the NIHR Devices for Dignity (D4D) MedTech Co-operative, which is hosted by Sheffield Teaching Hospitals.
The revolutionary collar helps to ease pain and make everyday tasks such as eating and communicating much easier. More than 80 per cent of patients felt comfortable wearing the collar and felt it met their needs in its entirety. 
This is just one example of our collaborative work which is made possible because of our partnership and location next to Sheffield Teaching Hospitals NHS Foundation Trust, which is one of the largest, busiest and most successful foundation trusts in the UK – makes Sheffield a unique neuroscience community.
We understand the vital link between groundbreaking research and innovative industry developments. We are proud to work in collaboration with a number of global organisations to further enhance our translational research. In a partnership which is the first of its kind, the University and Parkinson's UK launched a £1 million virtual biotech company through a pioneering research programme to create new drugs for Parkinson's disease. 
No other institution in the world has developed the same facilities and critical mass to exploit the potential of modern science specifically for neuroscience. Earlier this year the University raised £2 million to help to establish a groundbreaking MRI-PET facility here in the city. As one of only eight scanners in the UK, the facility will help transform our understanding of the causes and effects of serious diseases like MND, Parkinson's disease and Alzheimer's disease, which claim the lives of millions of people every year. The scanner will provide doctors with a more precise and accurate assessment of serious conditions leading to better treatments and monitoring of patients. 
The task of understanding our brain and nervous system is colossal. It will require a wealth of expertise, exceptional facilities and a drive to win the fight against neurological and sensory-related disease. At the University, we've spent years building our strong reputation as an institution of exceptional neuroscience research and we're therefore ready to lead the way in understanding the complex system sitting on our shoulders. 
We are ready to unravel the mysteries of the nervous system. 
Partner with us
We're proud to work with local and global organisations to further enhance our translational research.
Flagship institutes
The University's four flagship institutes bring together our key strengths to tackle global issues, turning interdisciplinary and translational research into real-world solutions.