Congratulations to Professor Christopher McDermott for being awarded the prestigious Research Professorship for his work on motor neuron disease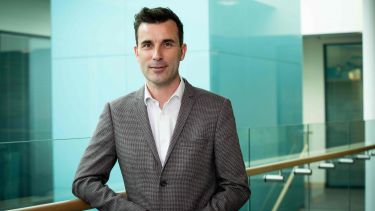 We are incredibly proud to announce that Professor Christopher McDermott, Head of Department of Neuroscience and Professor of Translational Neurology, has been recognised as an outstanding health and care researcher by the National Institute for Health Research (NIHR) with the highly competitive Research Professorship. 
As one of the five research leaders of the future who received the award, Chris will be able to benefit from the crucial funding and support for his work that strengthens and benefits health, public health and care research leadership at the highest academic level. 
On hearing the news I felt so grateful that I will have the opportunity to build a team to focus on improving outcomes for people living with motor neuron disease. 

I really do believe we can improve things in terms of how we deliver care and how quickly we can find meaningful treatments for this awful illness.

Professor Christopher McDermott

Head of Department of Neuroscience, Professor of Translational Neurology
As a disease that affects the brain and nerves with a nearly always fatal outcome, MND is commonly regarded as a rare condition, which isn't true. One in every 300 people, across all UK communities, will develop MND in their lifetime, losing the ability to walk, use their arms and hands, speak, eat and breathe, in no particular order.
With patients experiencing progressive decline, they need to be supported with accurate information about their prognosis and treatments when making complex decisions around medical and care interventions. 
However, the lack of reliable information that patients receive about their MND and the likely disease trajectory means that decisions are often delayed with serious consequences, as most interventions used in MND have an optimal window for introduction.
Good care can increase chance of survival, but the worsening disability and the need to shield during Covid-19 can make it hard to make arduous trips to receive specialised care. 
On the other hand, the non-specialised care that MND patients often receive from community teams can sometimes be affected by a lack of appropriate knowledge about the disease.
With no effective treatment, most patients sadly pass away within three years after the initial onset of the disease. Only 5 per cent of people with MND  survive for more than 10 years after the initial onset. As a result, their lives revolve around the need to adapt to continuing waves of loss. 
Explaining the problem and how his research will address it, Chris said: "With an aim to improve the care that the patients receive, I will examine existing databases of over 15,000 patient journeys to develop computer models that can predict the optimal timing of interventions for people with MND and develop new resources to support patients to make decisions about the care they want to receive. 
"I've also developed TiM, a telehealth system which enables patients to communicate with their MND experts. 
"Together with the patients, I will develop this further to remotely monitor other important aspects of MND care that currently require hospital trips and to improve communication between different care teams involved in the care of a person with MND. 
"My goal is to roll this system out across the UK and demonstrate its impact on people living with MND and their care.
"Currently, treatment is also focused on managing day-to-day problems to improve quality of life. One problem which remains difficult to treat is uncontrolled drooling from the mouth. People with MND have indicated this is a distressing problem. 
"Alongside the patients, I will also put together a clinical trial to determine the best way to treat drooling."
Another part of Chris's research plans is to improve patient participation in the clinical trials that are crucial to finding a cure. 
As little as 10 per cent of patients participate in the lengthy and burdensome clinical trials, and those that do take part are usually younger male patients with milder disease outcomes. This means trials take a long time to be carried out and their findings may not be true for a large portion of patients.
Chris added: "Everyone with MND should have the opportunity to participate in clinical trials that are evaluating outcomes that are important to them and are designed to minimise the burden of being in a trial. 
"To that end, I will develop with people with MND a new patient reported outcome measure and use new remote technologies to make participation easier. 
"I have presented my research ideas to patients and carers from around the UK and the national MND charity. They felt my plans addressed some of the most pressing areas in MND treatment and trials. 
"Apart from working with patients and charities to ensure that the findings are available to them, I also want to publish and share my results with those who can bring in meaningful changes to the way that trials and care are designed for people living with MND."
To deliver an effective team effort, four doctoral fellowship positions will be funded and created for this Professorship programme 
This will help contribute to the University's aim to support the development of early career researchers as part of our vision for Research.
Commenting on his goal to create a core team of researchers, Chris said: "This is something I feel particularly passionate about. 
"I see the value of a truly multidisciplinary research team and building a positive research culture which can contribute to the success of this professorship."
Chris is a respected leader, valued colleague and one of our most successful interdisciplinary leaders, whose research has had considerable influence on both national and international care practice and whose name is featured in more than a hundred journal articles.
With a track record of driving collaboration and partnership in research, he has championed the development of research centres and the use of technology for care and research in MND, representing the clinical research community in the UK that specialises in the disease. 
Aiming to deliver supportive and sympathetic care for MND patients, he played a crucial role in developing globally successful, patient centric devices and services, such as the revolutionary cervical HeadUp collar and telehealth service that enables access to remote MND care, and he is now developing new novel interventions to support nutrition. 
Chris is also reputed for training new talent, not only through supervision and mentoring, but also by establishing a masters course in Clinical Neurology at our University to develop a pipeline of future neuroscience researchers. 
Chris added: "My research career started in 1998 with a Wellcome Trust funded PhD, studying mechanisms of neurodegeneration.
"While seeing patients in the motor clinic, I was struck by the terrible suffering facing those living with MND. Since then, I have been motivated not only to be part of the effort to understand the pathogenesis and trial new treatments, but also ensure that care delivered to people living with MND is evidence based. 
"The professorship is an important next step in my development as a research leader, and it will help cement Sheffield's place as a world-leading centre for care and research delivery for MND."
Partner with us
We're proud to work with local and global organisations to further enhance our translational research.
Flagship institutes
The University's four flagship institutes bring together our key strengths to tackle global issues, turning interdisciplinary and translational research into real-world solutions.